Phantom of the Paradise is a well made and quirky adaptation of the classic opera. The performances, both sung and acting, were good headlined by William Finley and Jessica Harper
Phantom of the Paradise
(1974)
---
Genre(s): Horror, Thriller, Music
Shout Factory | PG – 92 min. – $29.93 | August 5, 2014
MOVIE INFO:


Directed by: Brian De Palma
Writer(s): Brian De Palma
Cast: Paul Williams, William Finley, George Memmoli, Harold Oblong, Jessica Harper

---

DISC INFO:
Features: Commentary, Interviews, Alternate Takes, Outtakes, Theatrical Trailer, TV & Radio Spots, Still Gallery
Number of Discs: 2

---

Audio: English (DTS-HD MA 5.1)
Video: 1080p/Widescreen 1.78
Subtitles: English
Disc Size: NA
Codec: MPEG-4 AVC
Region(s): A
THE MOVIE – 3.75/5
Phantom of the Paradise is an adaptation of the hit musical, which itself has been adapted numerous times into feature film form over the years, but this one has a twist, taking on a more Rocky Horror Picture Show vibe with crazy sets, costumes and songs, which honestly, are kind of catchy and still sound good 40 years later.
The story follows an intense song-writer with the unfortunate name of Winslow Leach (WILLIAM FINLEY) who has written an amazing, and massive, 200+ page cantata (vocal composition) for which mega music producer known only as Swan (PAUL WILLIAMS) believes the music perfect to use for the opening of his new, and hot, nightclub "The Paradise." However, Swan also doesn't want to give credit to Leach and takes the music.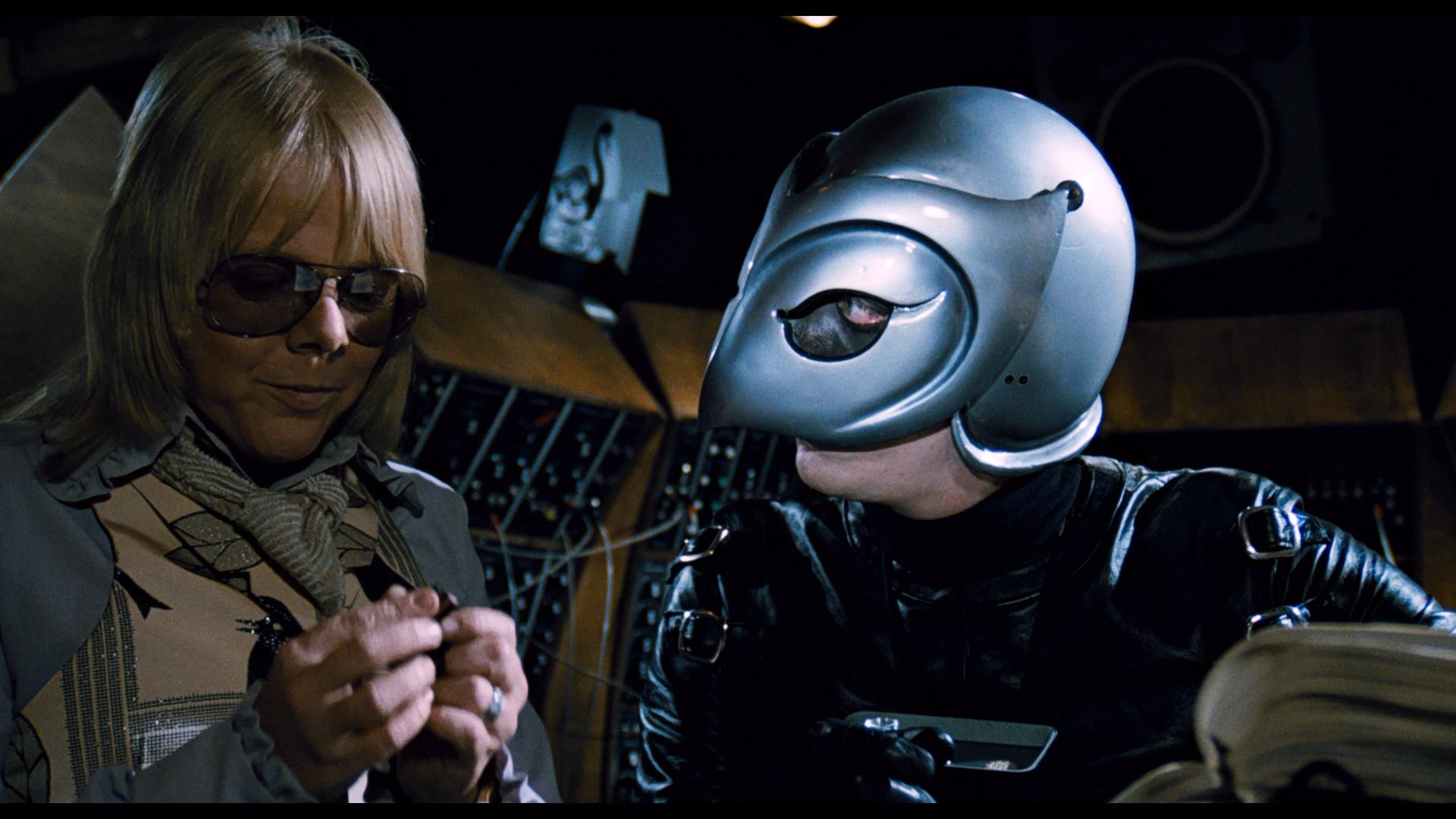 Six months pass when Leach stops by Swan's Death Records Headquarters, with a very Being John Malkovich-like hallway, only to be thrown out on his butt. Determined, Leach goes to Swan's mansion where he encounters many young ladies auditioning to sing his cantata and there meets Phoenix (JESSICA HARPER) who he is taken to not just for her beauty but how she sings his music. But, not only is the audition what Phoenix thought it would be, but Swan's goons has Leach thrown out and, after another unsuccessful entry in full drag disguise, is encountered by a couple corrupt cops who plant heroin. Leach is then sent to a life sentence at… Sing Sing Prison, of course. There, he "volunteers" to a Swan-backed dental program removing his teeth, replaced with sharp metallic ones.
Escaping from Sing Sing, Leach seeks out for revenge but only gets severely injured one side of his face. When he emerges some time later, and as the Paradise is about to open, he goes to the club finds the iconic helmet and makes a deal with Swan: to hire Phoenix to sing and in exchange Swan will allow Leach, aka The Phantom, to write more music, specifically for Phoenix. Swan also provides The Phantom with his own voice box.
As you can imagine, Swan is more or less portrayed as the Devil and clearly shouldn't be trusted. Even so, Leach signs a binding contract (in blood of course) and Swan betrays him though he has other plans leading to a body count and a fun and an on-the-nose commentary on the music industry that resonates today even more so than 40 years ago.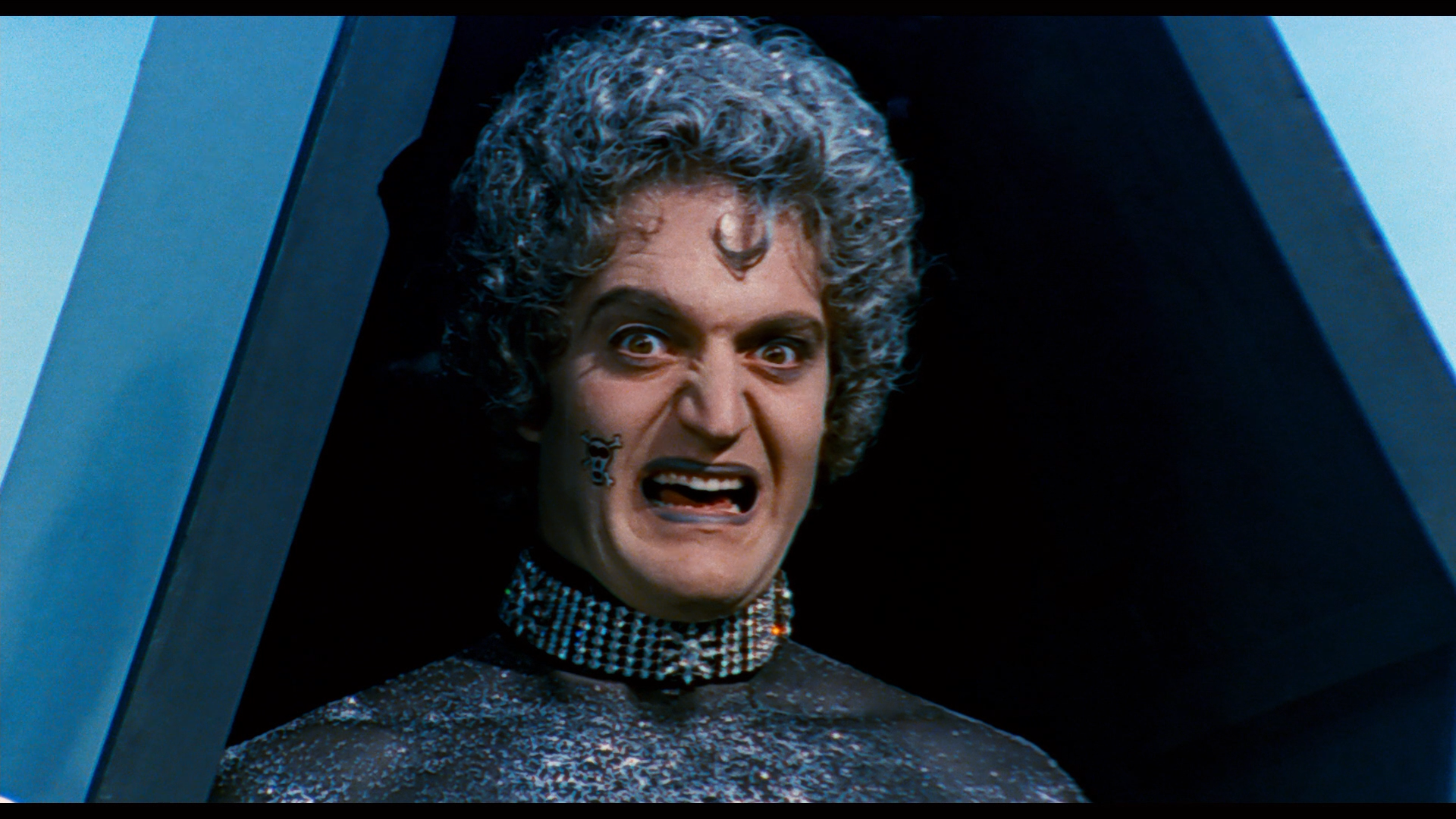 Quick Hit Review:
Quite frankly, I had no idea what to expect from Phantom of the Paradise. Of course I've heard of it and it's become somewhat of a cult classic, although not as big as say, Rocky Horror Picture Show which this kind of reminded me of (and came out a year later in '75). Anyway, I found this a lot of fun and featured some great performances specifically by William Finley as the Phantom and even Paul Williams, a composer by trade and hardly an actor. Also a plus, the music is fantastic and luckily the soundtrack is still available today.
SPECIAL FEATURES – 4.25/5
This release comes with a nicely designed matted slip cover. The case contains a DVD copy which only has additional bonus material (not on the Blu-ray disc).
DISC 1 (BLU-RAY):
Commentary – We get two tracks: 1) Actors Jessica Harper, Gerrit Graham and the Juicy Fruits (Archie Hahn, Jeffrey Comanor and Harold Oblong) and 2) Production Designer Jack Fisk.
Interview with Director Brian De Palma (33:07; HD) is a new and quite extensive conversation with De Palma as he discusses the origins of the movie and on the music industry and performers.
Interview with Paul Williams (34:54; HD) – In another lengthy interview, the composer talks about the music featured in the movie.
Interview with Make-Up Effects Wizard Tom Burman (4:09; HD) where he discusses creating the Phantom's iconic helmet.
Alternate Takes (26:21; HD) – There are 11 alternate takes including a slightly different opening. Some are kind of interesting to see the different angles.
Swan Song (7:27; HD) is some outtake footage where originally Swan's company was named "Swan Song" before they changed it and prominent references had to be replaced in post-production.
Last up is a Stills Gallery.
DISC 2 (DVD):
Interview with Producer Edward R. Pressman (19:03) is a new interview as he discusses the script and getting the movie made.
Interview with Drummer Gary Mallaber (17:05) talking about his work on the movie as the drummer of The Juicy Fruits.
Alvin's Art and Technique (11:36) is a look at the neon poster and its creation.
Phantom of the Paradise Biography by Gerri Graham (9:32) is a 1974 publicity sheet written and read by Graham.
William Finley and Toy (0:33) is an advertisement for a toy figure of the Phantom.
This disc also includes: Radio Spots (2:34), TV Spots (5:19), Theatrical Trailers (5:07) and another Still Gallery.
VIDEO – 4.5/5
Phantom of the Paradise sings its way onto Blu-ray vie way of Shout Factory (under their Scream Factory) and frankly, they have done a damn good job with the 1080p high-definition transfer (MPEG-4 AVC codec), which is presented in its original 1.85 widescreen aspect ratio. The colors are vibrant, detail levels sharp and nary a scratch, dust marks or artifacts. Given the movie, which presumably didn't have the greatest budget, is 40 years old, it is an impressive task done.
AUDIO – 4.0/5
Thankfully, Shout didn't skimp out on the audio either giving the movie a full-fledge 5.1 channel DTS-HD Master Audio track. The movie sounds pretty good with clear dialogue levels but it's when the music plays, either on-set or as a score, where the depth sets in. Now, it does tend to top out in certain places and I don't think it's the most dynamic track but it's a clear upgrade over any DVD counterpart.
OVERALL – 4.0/5
Overall, Phantom of the Paradise is a well made and quirky adaptation of the classic opera. The performances, both sung and acting, were good headlined by William Finley and Jessica Harper. The Blu-ray released by Shout Factory and offers up great high-definition audio and videos transfers while the features are packed and spread across two discs.
The Movieman
Published: 08/14/2014
Check out some more screen caps by going to page 2. Please note, these do contain spoilers.