Jack Ryan: Shadow Recruit is hardly the perfect movie, it's not even a good thriller, but it's a satisfying enough flick so long as you aren't a fan of the character or novels. The plot is a bit thin but the action scenes, as dumb since as they may be, were well filmed at least.
Jack Ryan: Shadow Recruit
(2014)
---
Genre(s): Action, Suspense/Thriller
Paramount | PG13 – 105 min. – $39.99 | June 10, 2014
MOVIE INFO:


Directed by: Kenneth Branagh
Writer(s): Tom Clancy (characters); Adam Cozad and David Koepp (written by)
Cast: Chris Pine, Kevin Costner, Kenneth Branagh, Keira Knightley

DISC INFO:


Features: Commentary, Featurettes, Deleted Scenes, DVD Copy, Digital Copy
Number of Discs: 2Audio: English (DTS-HD MA 7.1), French (Dolby Digital 5.1), Spanish (Dolby Digital 5.1), Portuguese (Dolby Digital 5.1)
Video: 1080p/Widescreen 2.40
Subtitles: English SDH, French, Portuguese, Spanish
Disc Size: 38.8 GB
Codec: MPEG-4 AVC
Region(s): A
THE MOVIE – 3.25/5
Jack Ryan: Shadow Recruit is based on the character created by the late thriller novelist, Tom Clancy… well, technically anyway as this version bears little resemblance and instead takes him from just a normal guy, albeit with some military history, thrown into incredible situations to a super-solider, almost Jason Bourne-esque, thrown into geo-political conflict against a mundane villain.
That said, it's not all bad but much like A Good Day to Die Hard is a generic action movie that so happens to have a character named John McClane, so is the same for this where the main character happens to be named Jack Ryan… Yes, I understand the Baldwin and Ford movies had him fighting, but the level of combat Pine's version seems to take him to the next level.
The story begins back in 2001 – September 11th to be exact – London School of Economics college whiz Jack Ryan (CHRIS PINE) watches in horror of the Twin Towers being attacked and decides to join the Marines to fight the war. 18 months later, while flying over the mountains of Afghanistan, his chopper is hit by a missile taking it down and severely injuring his back which takes him to Walter Reed Medical Center to recover and meets the ravishing Dr. Cathy Muller (KEIRA KNIGHTLEY).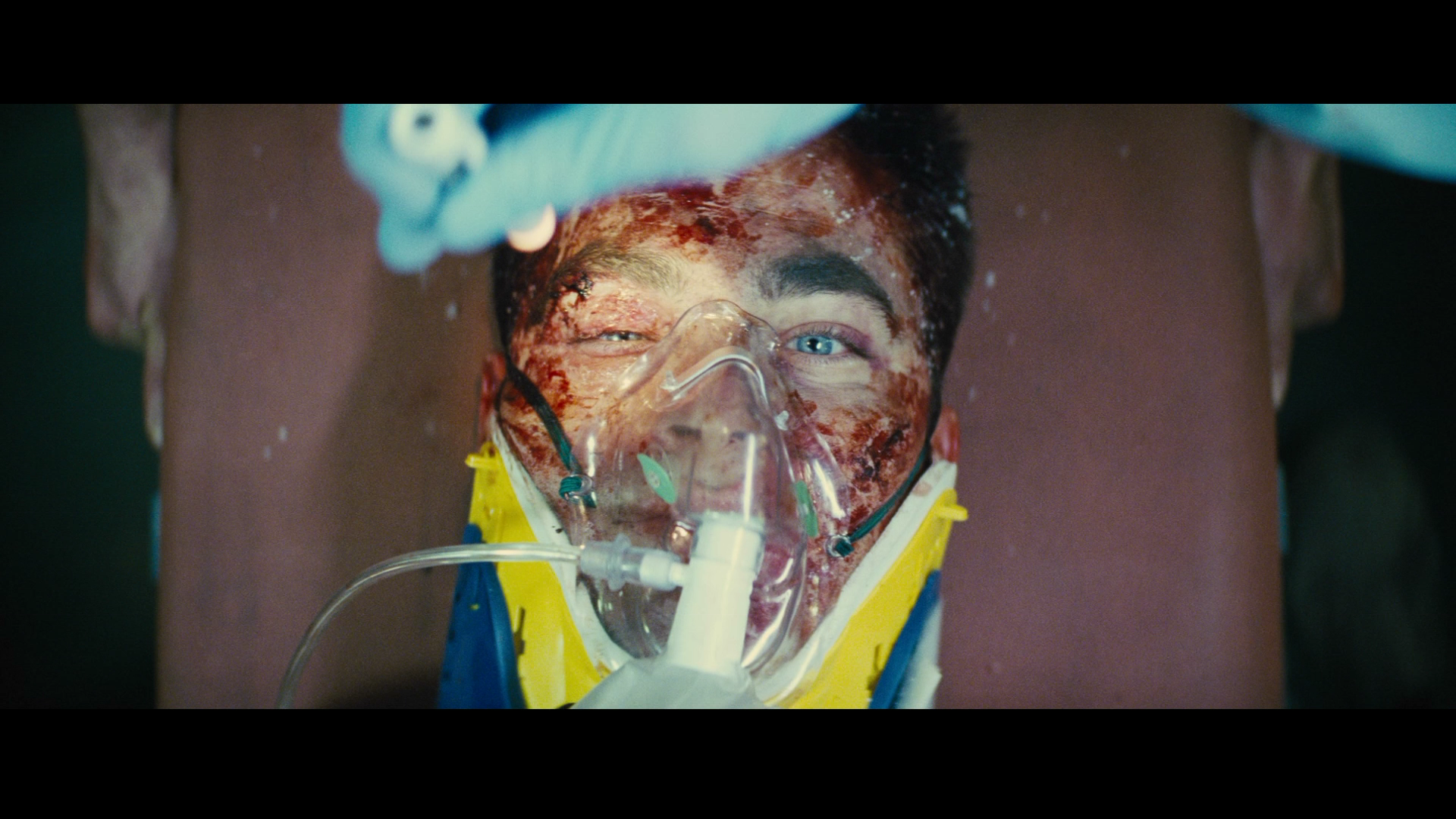 In the meantime, as Ryan recovers, he also makes a connection with CIA spook Thomas Harper (KEVIN COSTNER) who enlists Ryan to join the CIA by joining their financial division, incorporating himself into a Wall Street firm and tracking potential terroristic financial activities. We soon discover it's monetary manipulation poised to take down America's financial market in conjunction with a terrorist attack.
Fast forward 10 years, Ryan is in a serious relationship with Muller and is neck deep crunching numbers at a financial firm when he discovers some unusual activity happening off the books from a Russian-based company… or some nonsense like that, it's all a plot ploy to have Harper send the analyst with little spy training to Moscow. Once there, his welcoming committee comes with a gun but after some rough housing that destroys half the hotel room, he deals with the situation taking down what I assume was supposed to be a trained, and experienced, assassin.
Despite the attack, Ryan stays on course and meets Viktor Cherevin (KENNETH BRANAGH) in the company's high-tech and highly secure facility but as soon as Ryan arrives, Cherevin is ready with all the answers. But that doesn't stop Harper who devises a plan for dinner invite across the street where Ryan will slip out, break in and get the necessary info to find the right pattern to determine when the attack will happen. Anyway, there's some showmenship between Ryan and Cherevin each knowing what the other is up to.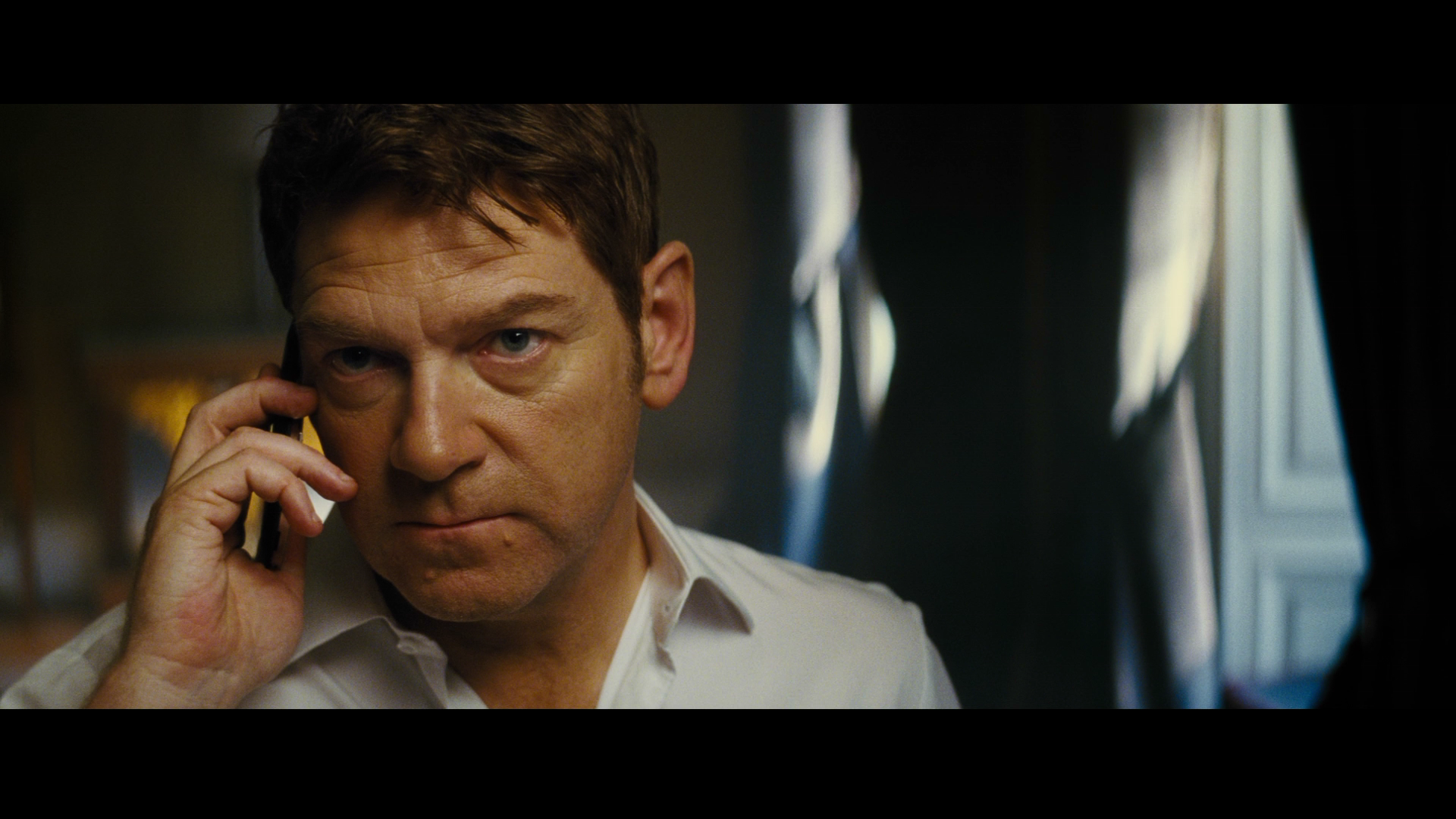 To complicate matters, Cathy makes a surprise visit and in Ryan's Russian hotel room which I'm sure isn't bugged or being monitored in some way, comes clean that he's in fact in the CIA, much to her relief thinking he was cheating on her (because he saw a movie in the middle of the day).
Jack Ryan: Shadow Recruit attempts to take the character into the 21st century, a post-911 world fighting against old enemies renewed which is apt for today's Geo-political climate and on that front I can appreciate the film. I can also say I liked Chris Pine in the role, he's nowhere close to Baldwin or Ford (the latter whom Clancy apparently hated in the role) but compared with Affleck, he might be a bit better. Problem is, the script just never quite gels for whatever reason. When we do (quickly) get beyond Ryan's origins, the film tends to lag before finding its footing somewhere towards the end of the second act and during a nice, albeit clunky, car chase which has no real consequence other than using Knightley in the damsel-in-distress role.
Speaking of which, the supporting cast on the surface seems well put together. Costner continues his mini-comeback and is quite good in the mentor role and playing a character that was supposed to be a linchpin for Paramount, crossing over to a John Clark pic (to be played by Tom Hardy) and then his own solo film, but thanks to the studios' endless tinkering with Shadow Recruit's release date, neither is likely to happen. In any case, Costner for his part is perfect and during his few scenes with Pine, is a breath of fresh air.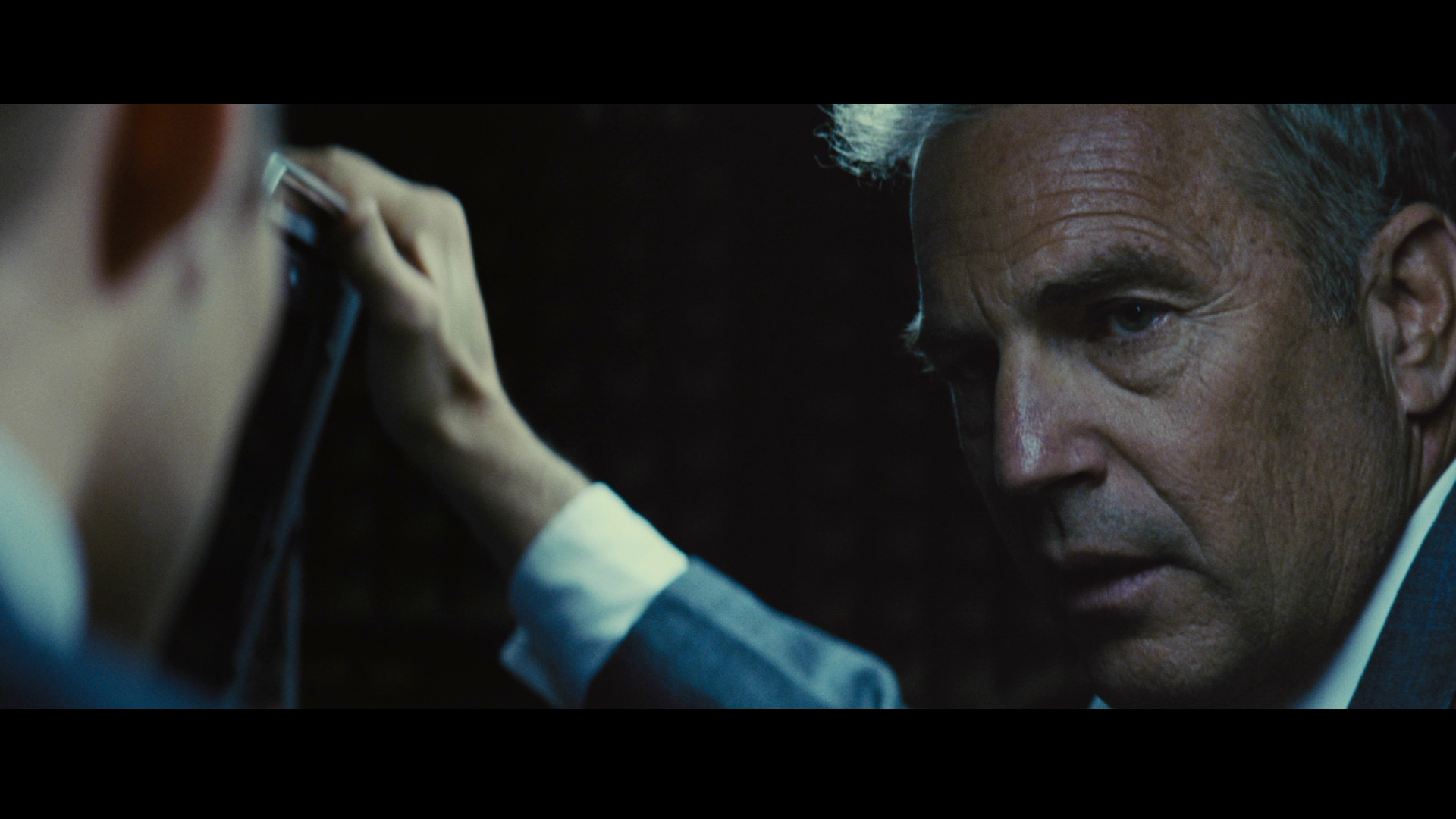 As for Keira Knightley, *sigh*, despite her beauty, and the fact I've had a mad crush on her for years, her appearance here just never worked, mainly because she seemed to strain to keep an American accent and more than once, kind of reverted to her native British tongue; I'm not sure why, if they wanted Knightley in the role, just didn't make her character a British transplant.
With Kenneth Branagh, his Russian accent is, shall we say, straddling the line of being bad and cartoonish. I realize Branagh is talented in front of and behind the camera, but the roles the villain could've easily gone to another actor, not that the script cic him any favors. But much like a couple of those Mission: Impossible films (#2 and 4), the villains in those are bland, serving only to further the plot and give audiences one person to root against so with that in mind, he fills the part well enough… even if it is a caricature of the typical Russian villain.
With all that being said, and yes there's plenty of criticism to go around for Shadow Recruit, I still found it to be a breezy thriller that managed to keep my entertained for the bulk of the time and thanks to Pine who I actually think was decent in the title role, it's just a shame he won't get the chance to try again with hopefully a better developed script. So, no it's not great and might be at the bottom of the list compared with the others, but I still give it a moderate recommendation so long as you lower your expectations…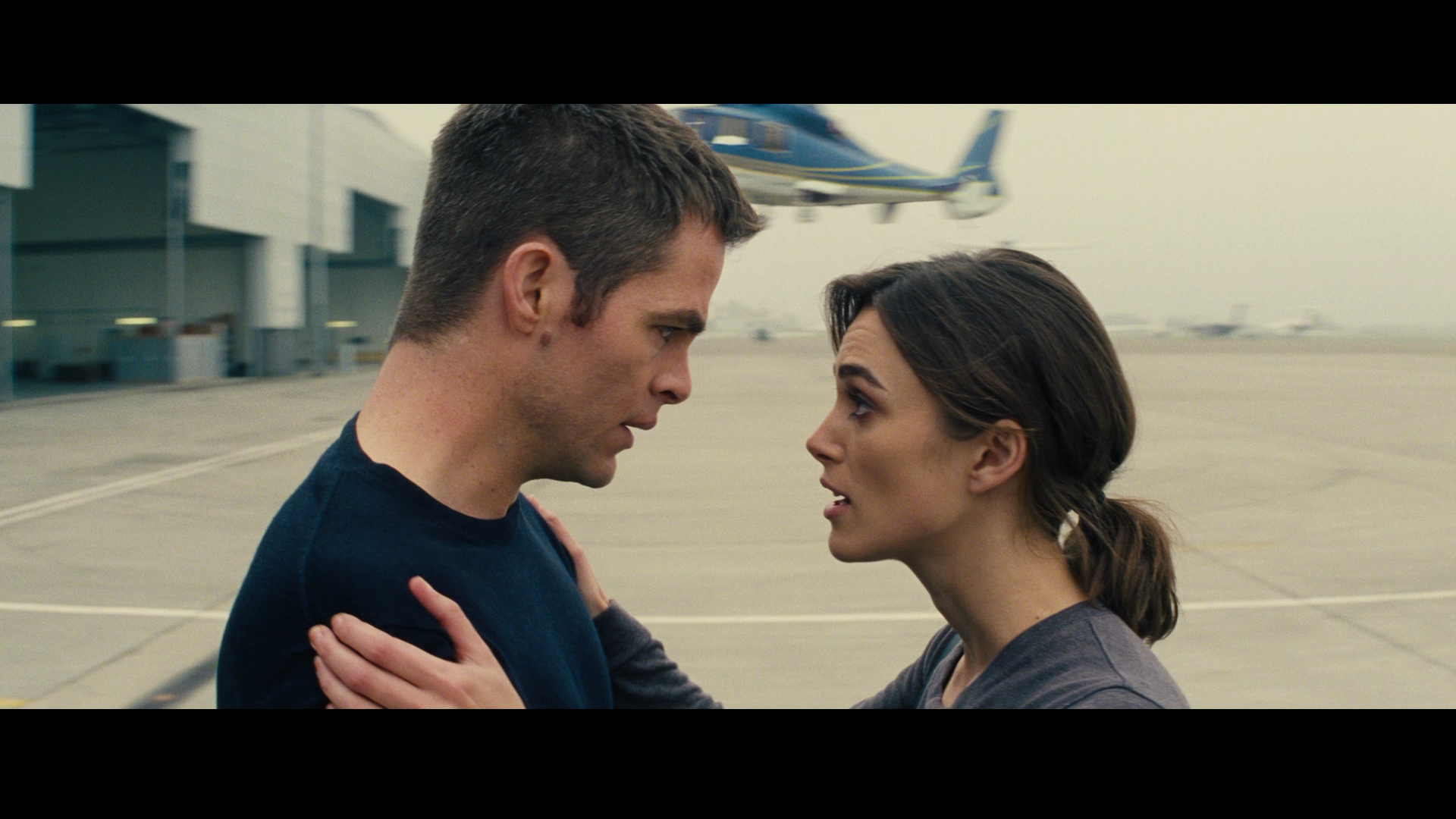 SPECIAL FEATURES – 3.0/5
This release comes with a semi-glossy slip cover. Inside the case are a regular DVD Copy and an authorization code for the Digital Copy (both UV and iTunes).
Audio Commentary – Actor/Director Kenneth Branagh and Producer Lorenzo di Bonaventura sit down for a friendly yet informative track covering the various aspects of making the film like bringing it to the screen, the script and working with the different actors.
Jack Ryan: The Smartest Guy in the Room (13:37; HD) is an overview of the character through the years and trying to get him back on the big screen and features interviews with the cast and crew and also has clips from the other movies.
Sir Kenneth Branagh: The Tsar of Shadow Recruit (9:49; HD) – This profile of actor/director Branagh provides some BTS footage and his approach on helming the picture as well as playing the villain.
Jack Ryan: A Thinking Man of Action (5:19; HD) covers the action and fight sequences.
Old Enemies Return (21:13; HD) is an extensive featurette using Russia and Branagh's character as the villain and his motivations against the United States before delving into the real world rivalry between the two countries from the perspective of academia and even a former CIA counter-terrorism expert.
Deleted & Extended Scenes (5:03; HD) – There are several scenes that were nixed or trimmed. There's an optional commentary with Branagh and di Bonaventura. Also included is an alternate ending which, as described by Branagh himself, was anti-climatic.
VIDEO – 4.75/5
Paramount sends Jack Ryan into the fray presented with a 2.40 widescreen aspect ratio and a 1080p high-definition transfer. Unsurprisingly, the picture looks incredible with sharp detail levels, bright colors during the daylight scenes and stark blackness through the night shoots showing no obvious flaws.
AUDIO – 5.0/5
In a nice bit of shocker, well I knew about this due to the press release, but Paramount has given the movie a 7.1 channel DTS-HD Master Audio track. Dialogue levels are crisp and clear of course but where the track really flexes its muscles is with the action scenes from the inconsequential chase sequence to the finale, both instances has depth where the LFE channels kicks into high gear.
OVERALL – 3.75/5
Overall, Jack Ryan: Shadow Recruit is hardly the perfect movie, it's not even a good thriller, but it's a satisfying enough flick so long as you aren't a fan of the character or novels. The plot is a bit thin but the action scenes, as dumb since as they may be, were well filmed at least. The Blu-ray release has incredible audio and video while the features are good enough.
The Movieman
Published: 05/18/2014
Check out some more screen caps by going to page 2. Please note, these do contain spoilers.