Justice League: War might not be the best of the DC Universal Animated Movie line and a step down from Justice League: The Flashpoint Paradox and The Dark Knight Returns, but it is entertaining enough though the voice casting this go around isn't the best, though we might be stuck with them given War is to be the first of connecting DCUA movies.
---
Genre(s): Action, Adventure, Science Fiction
Warner Bros. | PG13 – 79 min. – $24.98 | February 4, 2014

MOVIE INFO:
Directed by: Jay Oliva
Writer(s): Geoff Johns and Jim Lee ("Justice League: Origins" Comic Book); Heath Corson (written by)
Voice Cast: Sean Astin, Zach Callison, Christopher Gorham, Justin Kirk, Michelle Monaghan, Shemar Moore, Jason O'Mara, Alan Tudyk, Steve Blum
DISC INFO:
Features: Featurettes, DVD Copy, Digital Copy
Number of Discs: 2
Audio: English (DTS-HD MA 5.1), French (Dolby Digital 5.1), Spanish (Dolby Digital 5.1)
Video: 1080p/Widescreen 1.78
Subtitles: English
Disc Size: 25.4 GB
Codec: MPEG-4 AVC
Region(s): A, B, C
THE MOVIE – 3.0/5
While the DC Universal languishes in the live-action realm, Warner and DC Comics continue to churn out a new animated movie every year, albeit mostly centered on Superman, Batman or, in this case as well, the Justice League. The latest is Justice League: War based on Geoff Johns and Jim Lee's "Justice League: Origins" which was the launching point of DC's New 52 reboot where favorite superheroes got major makeovers.
JL: War opens in Gotham City where we find Hal Jordan/Green Lantern (JUSTIN KIRK) attempting to capture some sort of creature wreaking havoc across the city when he gets his first glimpse of Batman (JASON O'MARA), a superhero who to that point was merely a rumor. The two basically don't like each other as they try to out due one another to capture the creature, tracking it to the sewers where it has planted some sort of device. After the creature self-destructs leaving the device which scans like an alien computer which, naturally, leads Batman to think of a new super-being out of Metropolis…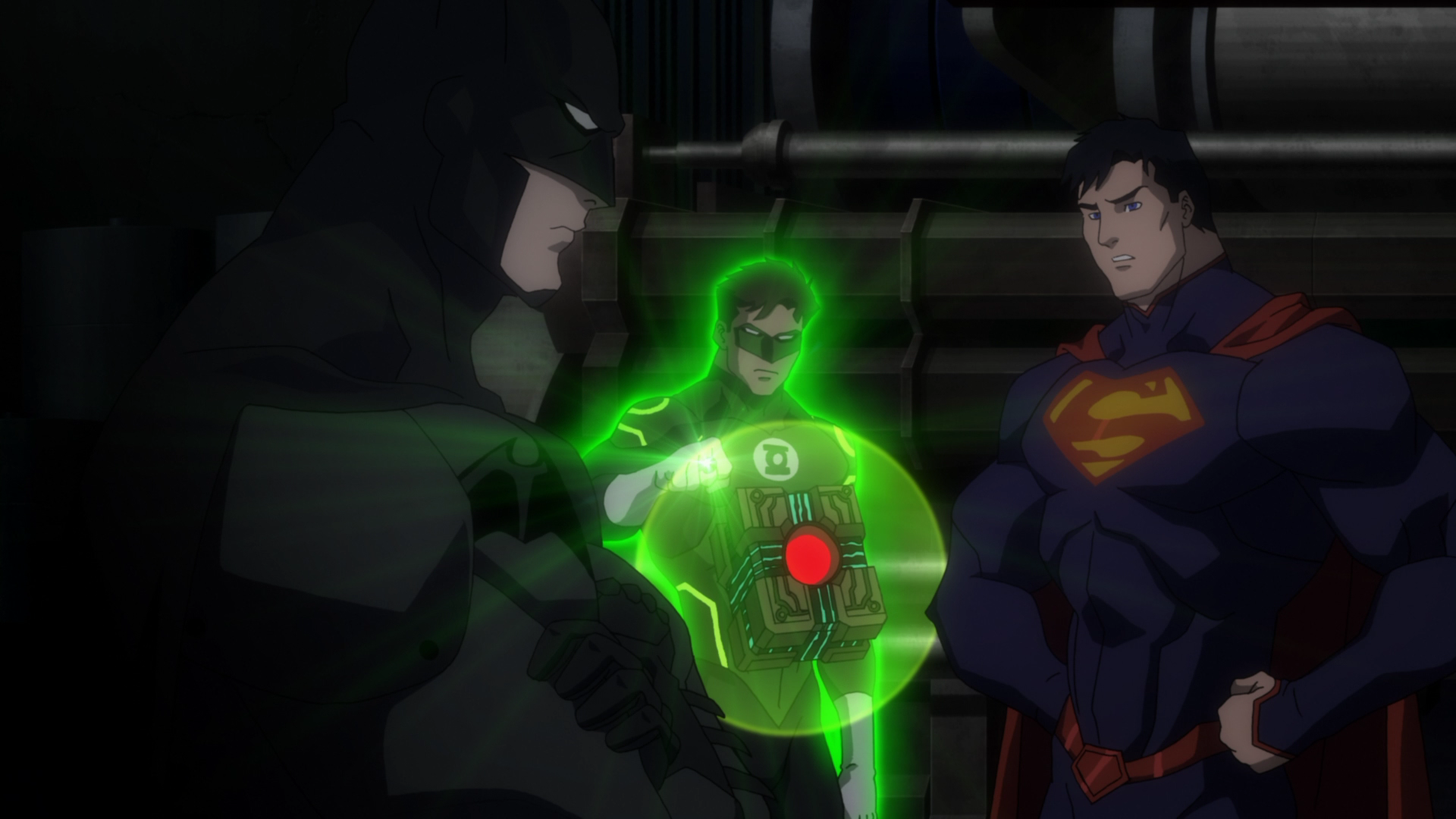 We next go to S.T.A.R. Labs in Metropolis where one of the creatures had been captured by the Flash/Barry Allen (CHRISTOPHER GORHAM) and the device being examined and their tests revealed there's something global going on as signals from similar devices are being broadcast around the world.
The lab team is led by Silas Stone (ROCKY CARROLL) whose son is Victor Stone (SHEMAR MOORE), star football player whom Silas disapproves of his sports activities, never attening one of Vic's games. Of course, Vic wants nothing more than his father's approval and certainly tells him just as hell is about to break lose when the device becomes active and grabbing it as a portal opens, nearly killing him. In order to save his son, Silas uses experimental medicine which, in conjunction with an iron lung, turns Vic into a part human, part computer, we all recognize as Cyborg.
During all this, Batman and Green Lantern have traveled to Metropolis to find the new superhero known as Superman (ALAN TUDYK) though their first encounter is less than cordial with none of the weapons in Batman's arsenal being able to do squat and an overconfident Green Lantern unable to psychically beat him. Soon enough, however, they find common ground especially when the devices begin opening portals letting lose thousands of creatures.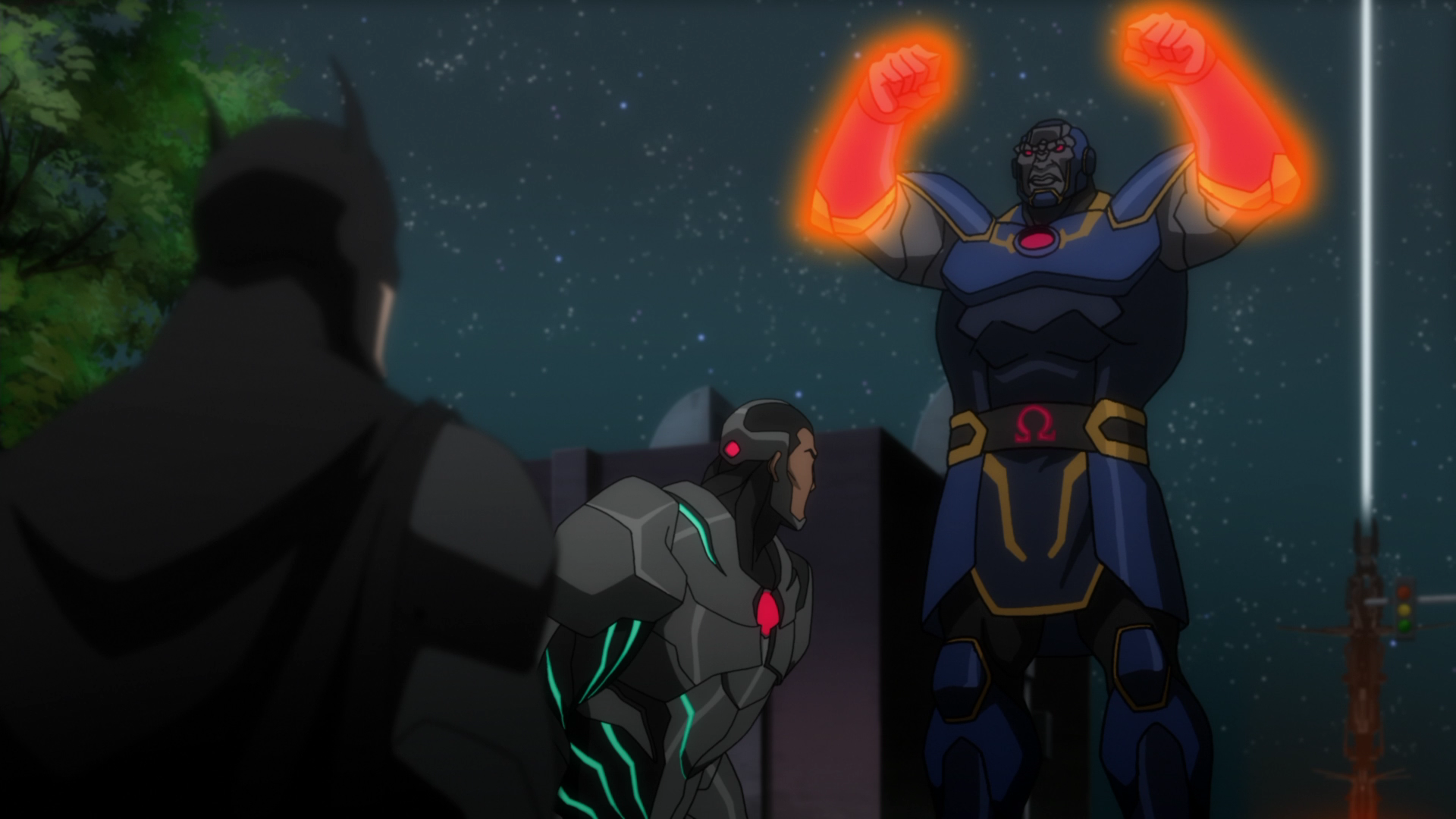 So, where are they coming from and who is behind the invasion? It's the supervillain Darkseid (STEVE BLUM) from his hell home planet of Apocalypse wanting to terraform planet Earth. Now it's up to these band superheroes – including Cyborg, ice cream loving Wonder Woman (MICHELLE MONAGHAN), The Flash and Shazam (SEAN ASTIN) – to come together. With regards to Wonder Woman and Shazam, each get their own little origin with WW serving as an envoy to the U.S. from the Amazonians. And interesting tid-bit? Her love interest Steve Trevor is voiced by George Newbern, the voice of Superman in the animated series and various movies.
Justice League: War is actually an entertaining film with some decently animated action sequences but when compared to some of the best in the DCU Animated line such The Dark Knight Returns and the last outing, Justice League: The Flashpoint Paradox, I found War to be a bit disappointing, thin on story and most surprising considering longtime voice caster Andrea Romano rarely misfires, but some of the choices just didn't quite work such as Jason O'Mara as Batman (and get used to him as he's come back for Son of Batman), Michelle Monaghan as Wonder Woman (though her character was poorly written early on) and even Alan Tudyk's Superman isn't the best, though it is tolerable.
On the plus side, Christopher Gorham's The Flash, albeit limited, isn't bad and I actually kind of enjoyed Justin Kirk's voice playing the smart-alecky Green Lantern/Hal Jordan; yeah, there have been choices in the past for both GL and Flash, but all things considered, I wouldn't balk at them returning for future movies. Also making appearances – dipping further into the CBS and ABC bull-pins – with Shemar Moore ("Criminal Minds") as Cyborg and Rocky Carroll ("NCIS") as his overbearing father, both of them are pretty good and for Cyborg's origin and intro, has the most depth and impact of the entire film.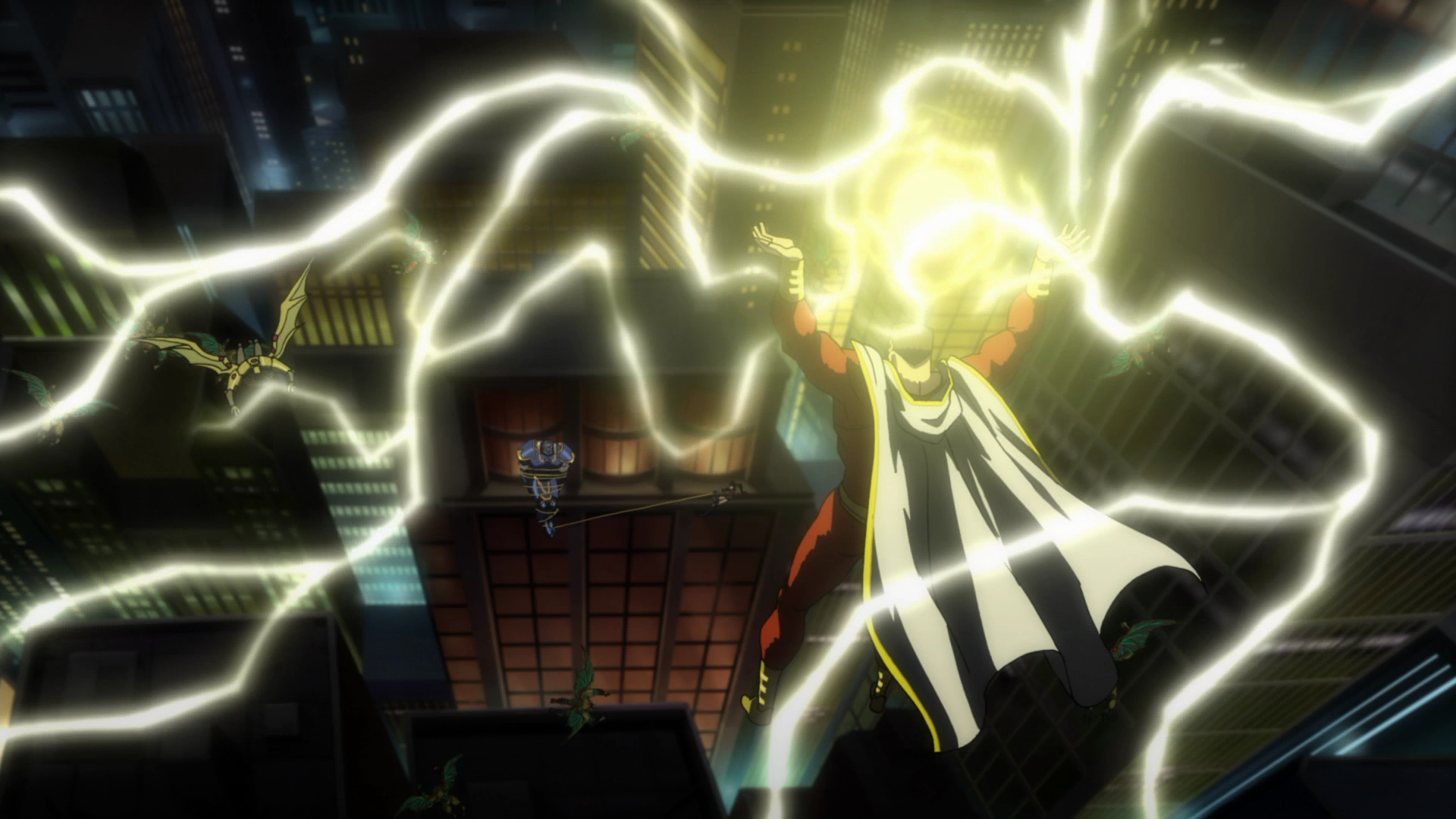 The plot is pretty thin and this is one of the weaker outings of the DCU Animated movie line, but Justice League: War has its moments with good animation, save for their change to Wonder Woman's costume and Superman's face, and with the short running time, it's at least passable entertainment and worth watching especially for DC Comic book fans.
SPECIAL FEATURES – 3.0/5
This release comes with a glossy slip cover. Inside is a download code for the UltraViolet Digital Copy and a DVD Copy.
Deconstructing JL: War (21:26; HD) – Director Jay Oliva and Artist Jim Lee breaking down the latest DC Animated movie. This is more or less a select-scene commentary.
Creating Heroes: The Life and Art of Jim Lee (37:19; HD) – This is an extensive profile of the aforementioned artist and contributor to the New 52 line.
Justice League: War Act D (23:45; HD) is an animatic to pencil test.
Also includes a Sneak Peek at Son of Batman (9:29; HD) and From the DC Comics Vault with four animated episodes ("Justice League Unlimited", "Batman: The Brave and the Bold" and a two-parter from "Young Justice").
Previews – The Lego Movie, Son of Batman
VIDEO – 4.0/5
Justice League: War has both the positives and negatives in the video (as well as audio) department as other non-theatrical animated movies. For one, colors generally are bright and show off quite well in the 1080p high-definition transfer but on the other hand, there are many instances of banding. Still, the dark levels do look impressive and although I would hardly show this as a testament to quality transfers, it's still not bad.
AUDIO – 3.75/5
On a similar front, the 5.1 DTS-HD Master Audio track tends to be mixed. The dialogue levels are good with clarity throughout and the high-tension music score shines through well enough but the action sequences, for which there are plenty especially in the latter half, comes off a bit flat and hardly expansive or depth-filled.
OVERALL – 3.5/5
Overall, Justice League: War might not be the best of the DC Universal Animated Movie line and a step down from Justice League: The Flashpoint Paradox and The Dark Knight Returns, but it is entertaining enough though the voice casting this go around isn't the best, though we might be stuck with them given War is to be the first of connecting DCUA movies. The Blu-ray release doesn't have much in the way of comprehensive bonus material while the audio/video transfers are adequate.
The Movieman
Published: 02/08/2014
Check out some more screen caps by going to page 2. Please note, these do contain spoilers.