Carrie had the potential to be good with two fine leads in Chloe Grace Moretz and Julianne Moore but instead it proves to be yet another remake that wasn't needed. Not helping matters is a cast that failed to make much of an impression and in the case of Moretz, had one particular scene which was silly.
---
Genre(s): Horror, Fantasy, Drama
Fox | R – 100 min. – $29.99 | January 14, 2014

MOVIE INFO:
Directed by: Kimberly Peirce
Writer(s): Stephen King (novel); Lawrence D. Cohen and Roberto Aguirre-Sacasa (screenplay)
Cast: Chloe Grace Moretz, Judy Greer, Portia Doubleday, Gabriella Wilde, Ansel Elgort, Julianne Moore
Theatrical Release Date: October 18, 2013
DISC INFO:
Features: Commentary, Featurettes, Deleted/Alternate Scenes, Theatrical Trailer, DVD Copy, Digital Copy
Number of Discs: 2
Audio: English (DTS-HD MA 5.1), French (Dolby Digital 5.1), Spanish (Dolby Digital 5.1)
Video: 1080p/Widescreen 2.35
Subtitles: English SDH, Spanish
Disc Size: 35.2 GB
Codec: MPEG-4 AVC
Region(s): A
THE MOVIE – 2.0/5
Note: This review does contain spoilers.
"Plug it up! Plug it up!"
It's been said Hollywood has run out of ideas green-lighting numerous sequels and remaking movies that needn't to be remade. This year (2014) alone we get RoboCop which is controversial given the popularity of the original, and last year's was Carrie, a film that didn't need to exist but even standing on its own and not comparing it to the 1976 classic based on Stephen King's novel, this is a bad, bad, bad movie. I mean, really bad.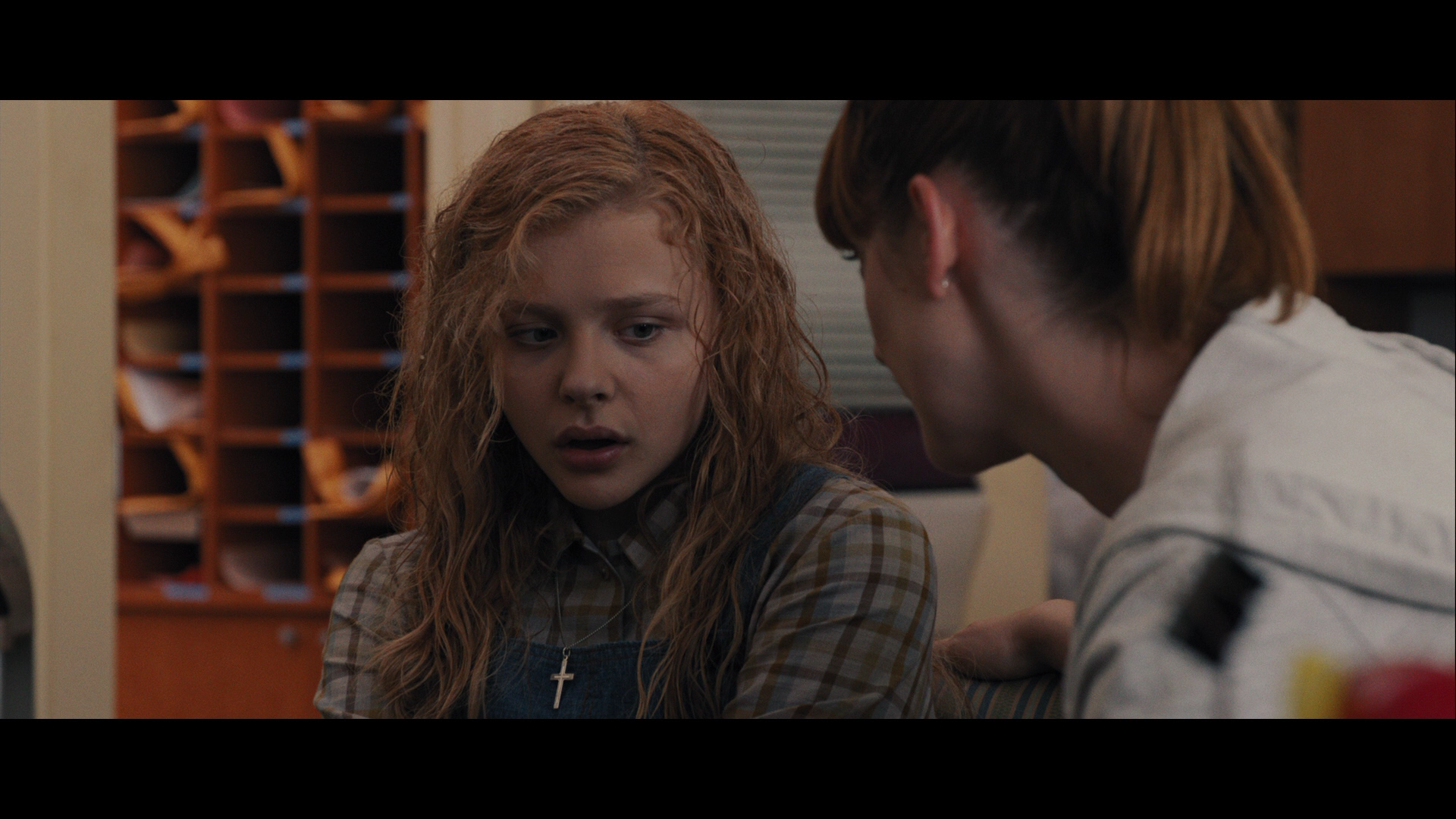 The story focuses on shy/awkward teen girl Carrie (CHLOE GRACE MORETZ) who struggles through high school and is the brunt of brutal jokes by the other girls, led by bitch and all around bully Chris (PORTIA DOUBLEDAY) culminating with her posse, and other girls, throwing tampons after Carrie experiences… um… bleeding for the first time. It doesn't help matters that her home life is chaotic with her ultra-religious mother (JULIANNE MOORE) who doesn't teach her daughter the ways of womanhood and also leads to social discomfort as well. But Carrie's nightmare has only just begun as cruel girl Chris posts the humiliating video online for all to see.
Carrie does receive support from gym teacher Ms. Desjardin (JUDY GREER) who not only helps Carrie through the situation but also punishes Chris banning her from prom which only enrages Chris to plot revenge. If you've seen the trailers or the original, you know what she's planning… All I'll say is pig's blood and multiple angles are involved.
In any case, we also meet Sue Snell (GABRIELLA WILDE) who participated in the tampon tossing but almost immediately felt bad and in an attempt to make up for her cruelty, she somehow convinces her boyfriend to take Carrie to the prom. At first Carrie is, of course, hesitant believing it to be a trick but soon enough accepts, as not for her mother to find out, and starts to gain confidence to the point of making her own dress which clearly looks tailor made. She also manages to stand up to her mother utilizing recently discovered telekinetic powers able to lift books, entire human beings and even start fires!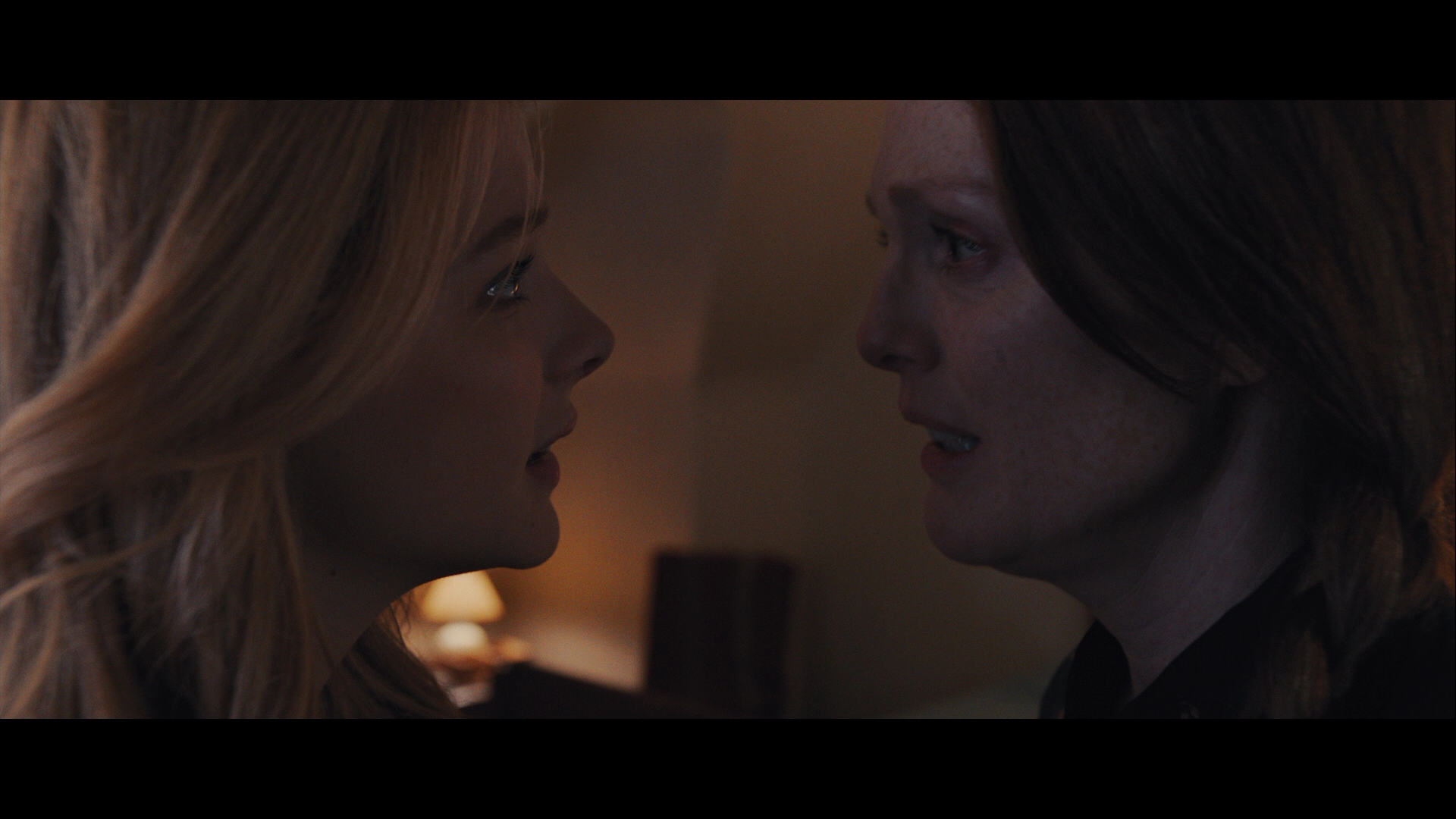 Ok, I wasn't looking forward to this latest remake/re-tooling of a classic but as with Total Recall, I was willing to give Carrie a chance to maybe offer something new but instead we get something that not only unnecessary but poorly constructed as well.
First up, the performances are downright ridiculous. I know one positive many negative reviews point to is Julianne Moore but, at the beginning at least, she was downright cartoony in her delivery though she does even out towards the end. Moore is a great actress making even the spectacularly awful Hannibal semi-bearable but she's not in this nearly enough to overcome issues with the screenplay (co-written by Lawrence D. Cohen who was involved in the original 1976 script).
With regards to Chloe Grace Moretz whom I thought might've been the strong point of the movie when seeing the trailers, came across absolutely goofy at times and when the big prom scene came, theatrical to the extreme with excessive hand gestures to the point where the scene which is supposed to be horrific and thrilling was instead laughable. Obviously one can't place complete blame on Moretz as director Kimberly Peirce evidently felt the takes that made it were good enough.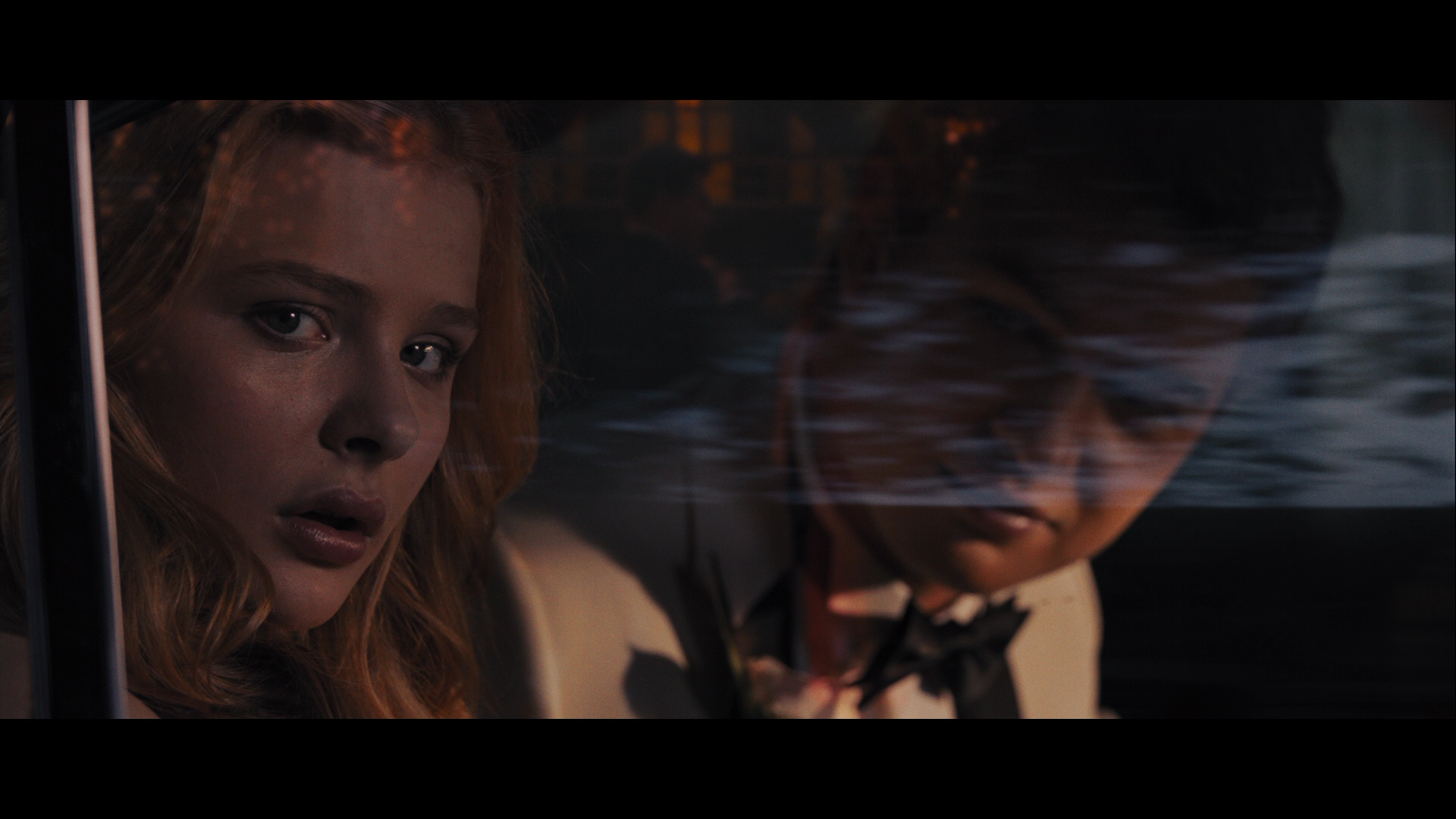 The rest of the cast is either completely forgettable or woefully underutilized. Judy Greer has a few good scenes with Moretz, and plays one of the few truly good characters, but she's more or less an afterthought; Portia Doubleday as the main antagonist was chuckle-worthy seemingly thinking she's a Bond villain; and Gabriella Wilde gets the toughest job as Sue yet her motivations didn't come across as genuine… in fact, I hardly found any of these actors (both main and supporting) genuine in the way they were written.
In the end, Carrie is yet another film that didn't need to exist despite the filmmakers' attempts to update the material and apparently give a truer adaptation of Stephen King's novel. I don't know how well it was adapted but it's clear that this was made in the hopes to rope in the angst teen girl demo that went to see Twilight and Hunger Games in droves.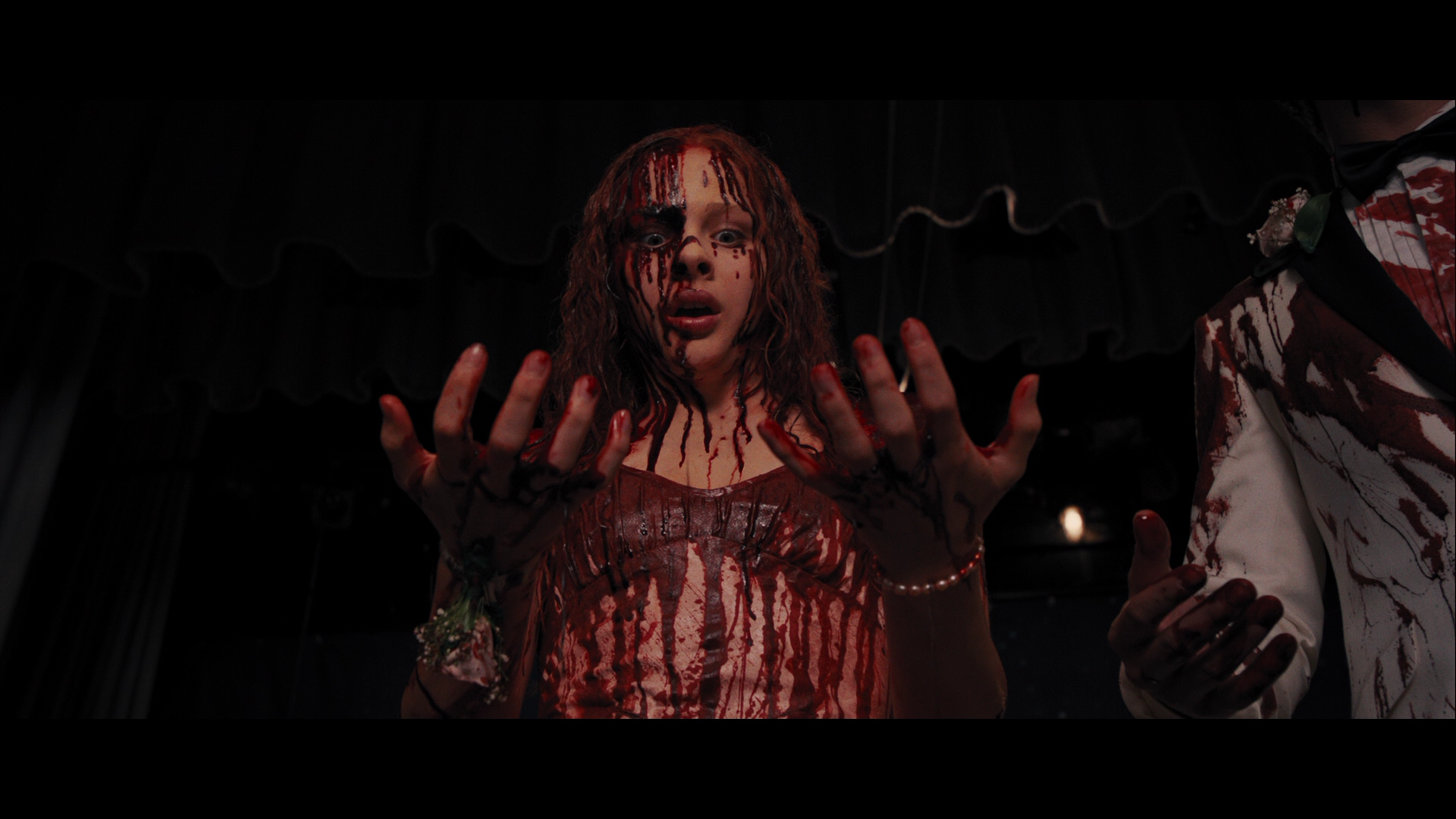 SPECIAL FEATURES – 3.5/5
The initial pressing comes with a lenticular-front slip cover. Inside is a download code for the UltraViolet Digital Copy and a standard bare-bones DVD Copy.
Alternate Ending is included where you can watch with the movie (you can choose this or the theatrical version) and after watching it, obviously it hardly makes the movie any better and in fact this one is actually sillier.
Audio Commentary – Director Kimberly Peirce sits down for a track talking about the project, her approach to filming some scenes and working with the various actors.
Deleted/Alternate Scenes (10:18; HD) – There are 9 scenes which were trimmed or completely cut from the final movie and some of them aren't bad, but also would served as padding to a film that didn't need to be longer.
Tina on Fire: Stunt Double Dailies (2:18; HD) is a look at the footage of the character Tina flailing around while on fire during the prom scene towards the end.
Creating Carrie (21:07; HD) is a behind-the-scenes featurette which delves into how the project came about, what the filmmakers wanted to accomplish and chatting about the characters. It's nothing amazing but fairly informative.
The Power of Telekinesis (4:02; HD) explores Carrie's powers in the movie and whether the filmmakers believe in it. This is a throwaway featurette.
Telekinetic Coffee Shop Surprise (2:39; HD) is a stunt done as a way to advertise the film.
Theatrical Trailer (1:56; HD)
Previews – RoboCop (how fitting), Paranoia
VIDEO – 4.5/5
Twentieth Century Fox distributes Carrie on Blu-ray presented in its original 2.35 widescreen aspect ratio and a 1080p high-definition transfer. Unsurprisingly, the picture looks near perfect with excellent detail levels throughout, decent black levels for the darker or nighttime scenes and well balanced colors. There is a fair amount of noise but it only helps to enhance the high-definition and gives it a natural theatrical feel.
AUDIO – 4.5/5
The 5.1 DTS-HD Master Audio track included offers a wide range from crisp and clear dialogue through the center speaker while the action elements, mainly during the prom sequence and its aftermath, makes use of the front and rear channels. This all-encompassing lossless track is well done and provides that home theater vibe.
OVERALL – 3.0/5
Overall, Carrie had the potential to be good with two fine leads in Chloe Grace Moretz and Julianne Moore but instead it proves to be yet another remake that wasn't needed. Not helping matters is a cast that failed to make much of an impression and in the case of Moretz, had one particular scene which was silly. The Blu-ray does feature great audio/video transfers while the bonus materials actually aren't that bad.
The Movieman
Published: 01/22/2014
Check out some more screen caps by going to page 2. Please note, these do contain spoilers.