The Lone Ranger might've been a good movie but on a much smaller and simpler scale but instead the filmmakers attempted to recreate some of the conditions which made the Pirates of the Caribbean movies monumental successes down to Johnny Depp playing yet another make-up wearing quirky character. The action scenes aren't that fun and get a bit tedious.
---
Genre(s): Western, Action, Adventure, Comedy
Disney | PG13 – 149 min. – $39.99 | December 17, 2013

MOVIE INFO:
Directed by: Gore Verbinski
Writer(s): Ted Elliott & Terry Rossio and Justin Haythe (screen story), Justin Haythe and Ted Elliott & Terry Rossio (screenplay)
Cast: Johnny Depp, Armie Hammer, Tom Wilkinson, William Fichtner, Barry Pepper, James Bade Dale, Helena Bonham Carter, Ruth Wilson
Theatrical Release Date: July 3, 2013
DISC INFO:
Features: Featurettes, Deleted Scenes, Gag Reel, DVD Copy, Digital Copy
Number of Discs: 2
Audio: English (DTS-HD MA 7.1), French (Dolby Digital 5.1), Spanish (Dolby Digital 5.1)
Video: 1080p/Widescreen 2.40
Subtitles: English SDH, French, Spanish
Disc Size: 45.8 GB
Codec: MPEG-4 AVC
Region(s): A, B, C
THE MOVIE – 2.5/5
Note: There are SPOILERS concerning the plot and characters. Please skip if you don't want to know some of the details.
Compared with other critics and posters on the Internet, I'm a bit more forgiving when it comes to the creative emptiness that has permeated Hollywood where storytelling and character is replaced with outlandish set pieces and over-usage of visual effects. The result is The Lone Ranger, a film which is astoundingly dull although one can see the millions being spent with each scene.
The film opens in 1933 where an aged Tonto (JOHNNY DEPP) recounts to a young boy about his time riding with a man known as The Lone Ranger. We're then taken back to the late 1800s during a time that the railroad is expanding and where we meet a man named John Reid (ARMIE HAMMER) riding on a train to become the prosecutor for an Old West town. In an adjoining car, outlaw and murderer Butch Cavendish (WILLIAM FICHTNER) is chained alongside Tonto, guarded by two lawmen, are being taken to the same town where Butch is to be hanged for his crimes.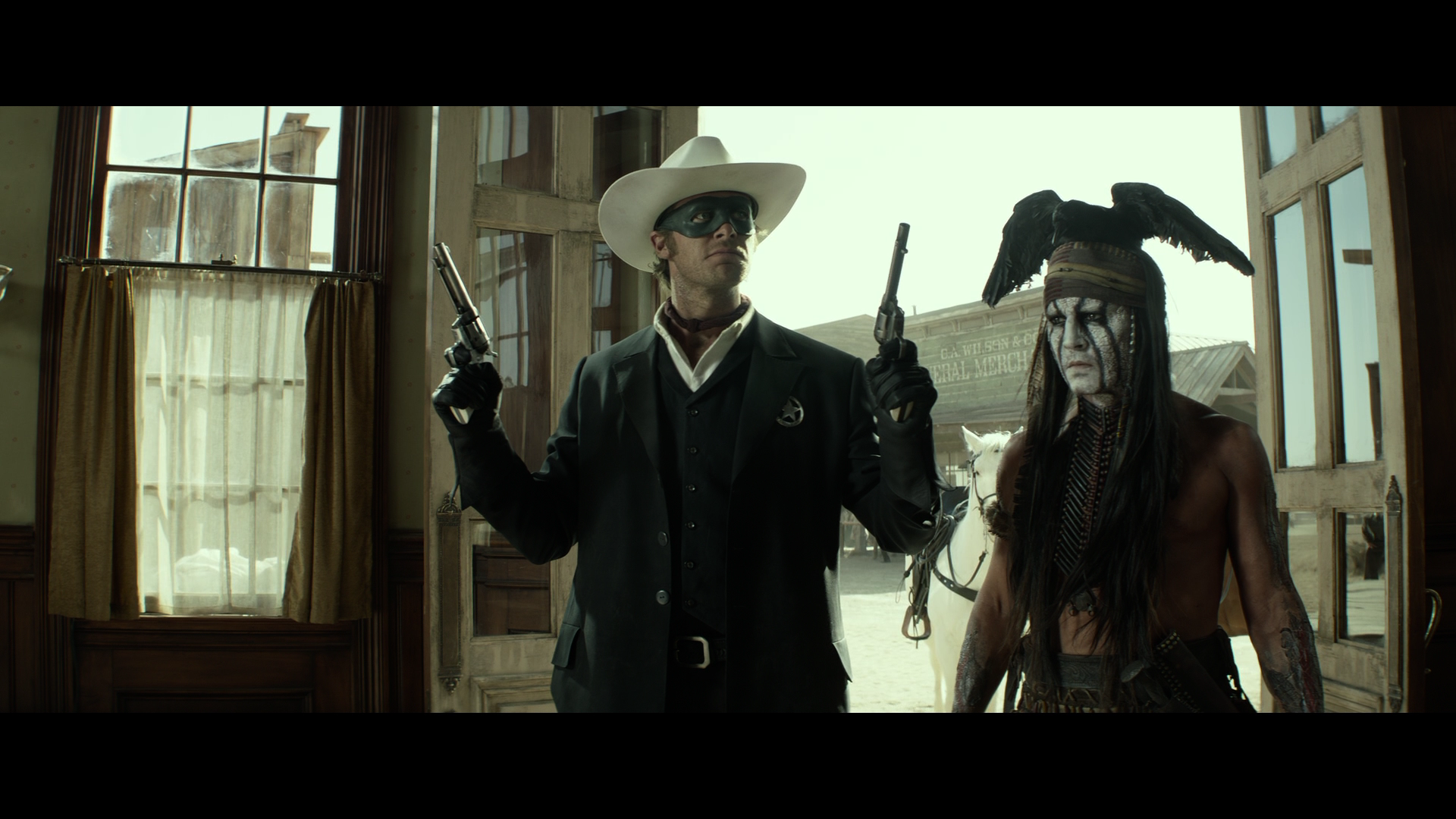 However, before Cavendish can be put to justice, his horse-riding posse manages to pull off a thrilling break-out killing two guards while also robbing the passengers in the process. Reid on the other hand knows something is up and attempts to stop the escape but only gets himself chained next to Tonto while Cavendish and his gang ride off and the train set on a collision course having been tampered with to run off the tracks by our conniving bad guys. Of course, Reid and Tonto do manage to survive (barely) but despite Tonto being instrumental in saving his life, Reid still intends on taking him into custody. Folks, this becomes a running theme for Reid as he thwarts any action by Tonto and yet each time Tonto comes to Reid's aid. Yeah, so Reid is a bit of douche.
In town, we meet Reid's Ranger brother, Dan (JAMES BADGE DALE), who invites his brother to tag along with the other Rangers, deputizing him beforehand, to go on the trail to (re)capture Cavendish and his posse. But as they got closer, the men are ambushed and one-by-one gunned down with Dan getting a coup de gras from our baddie in a cruel way and in front of John, though they thought he was dead…
Tonto, who managed to escape from his jail cell, comes across the carnage in the middle of the desert and digs graves for each one, though a spiritual white horse, which is most regarded in Indian culture, stands by John's grave, much to the dismay of Tonto who believes the other brother, Dan, is the chosen one. But the horse won't budge and Tonto takes John and sometime later, is revived from the dead; or something along those lines. Tonto gives Reid the mask, the holes punched out from a bullet that wounded his bother (very convenient) and tells him to wear it as to hide his identity as Cavendish believes him to be dead.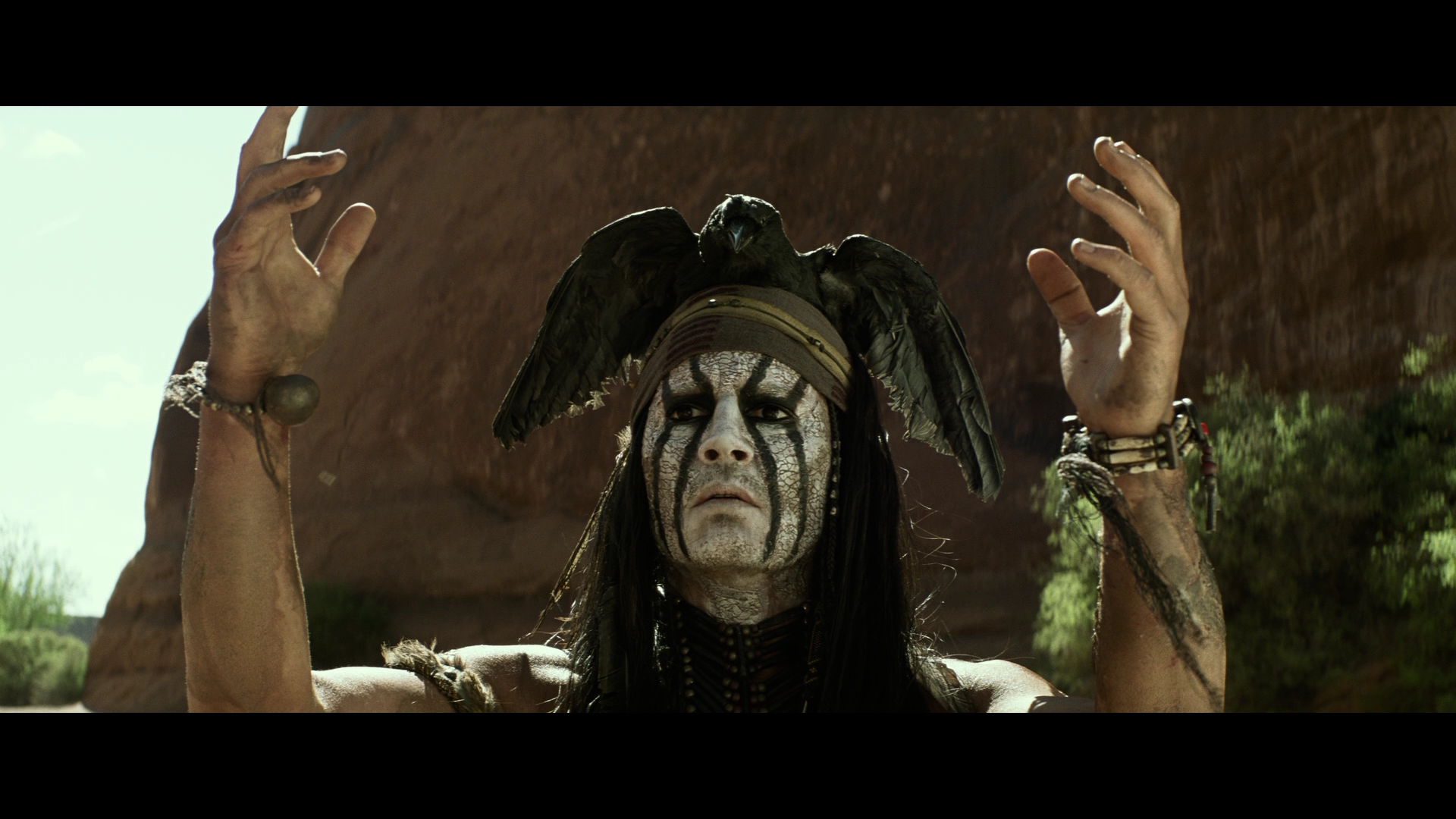 Ok, so Reid and Tonto, when they're not bantering back and forth, track down clues to Cavendish's location which includes a leg-gun wielding madam named Red Harrington (HELENA BONHAM CARTER), as Cavendish's gang begins plundering the landscape dressed as Indians that in turn breaks the peaceful pack between the two sides. Along with finding Cavendish, they also must uncover a grand conspiracy as well as rescue the lovely Rebecca Reid (RUTH WILSON), Dan's widow who in fact is in love with John (and vice versa), and her son, Danny (BRYANT PRINCE), who like most movie kids, is kind of a pill.
The Lone Ranger actually isn't a terrible movie and seems to have a decent, if not predictable, storyline and attempts to give both main characters (Reid and Tonto) a well-rounded background, but man is it all so dull. Yeah, there's some the normal inane action scenes one would expect from a Verbinski/Bruckheimer collaboration but I can't honestly recount a single one that was memorable save maybe for the finale, though that could be because it was the last sequence.
But outside of the film being boring, I had a difficult time liking either character. Neither one of them are bad and I'll give some props to Armie Hammer as he looks the part, yet nothing about these characters stand out and in the case of Johnny Depp, this is merely an extension of his overused Jack Sparrow but without the charm. I kind of wish Depp played John Reid and they got a Native American to play Tonto…
When it comes to the supporting players, again, none of them really stand out. The talented William Fichtner is underutilized as the prototypical villain; Tom Wilkinson yet again plays the same kind of parts we've seen in before. On the plus side, and commendable for a limited role, Ruth Wilson (Anna Karenina, "Luther") does stand out and I hope she gets more high-profile roles in the future.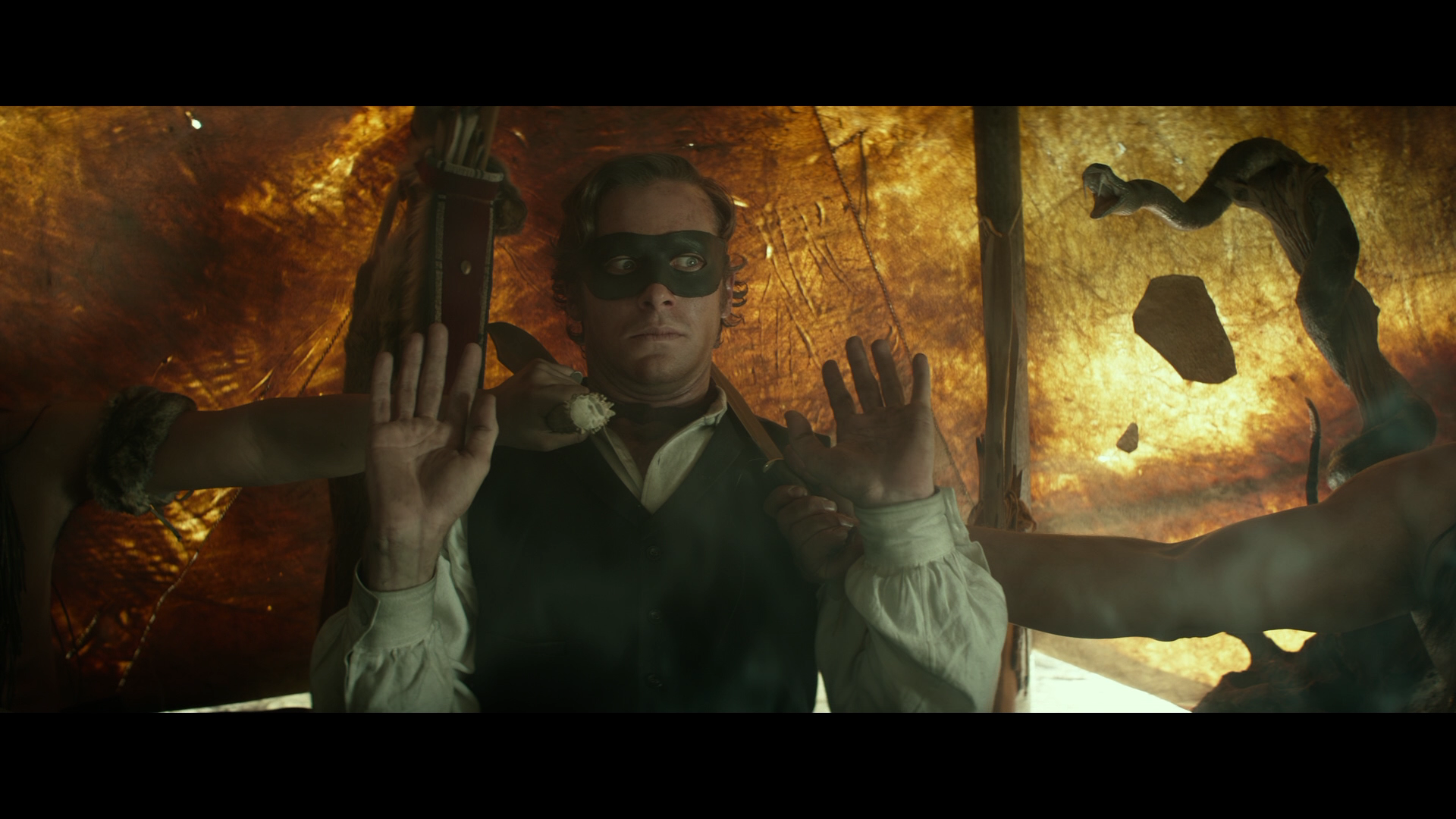 From a distance, I understand what Disney, Gore Verbinski, Jerry Bruckheimer and Johnny Depp wanted to accomplish believing they could reuse the Pirates of the Caribbean formula one more time and in the process pull in an older generational crowd familiar with the source material, but instead audiences rightfully mostly stayed away because despite being the rare western, there didn't seem to be a reason to see this, and I concur. At best The Lone Ranger is worth a rental but nothing more. Add to that fact, its hella long in at 139-minutes, a staggering running time where the story began wearing out its welcome.
SPECIAL FEATURES – 2.5/5
This release comes with a semi-glossy and embossed slip cover. Inside is the retail DVD Copy as well as a Digital Copy download code.
Armie's Western Road Trip (14:37; HD) – The actor recalls his journey through the west and films The Lone Ranger in all of the beauty of the locations. Hammer is quite animate about the locales and his appreciation for it. We also get behind-the-scenes footage of the filming and interacting with the Navajo Nation.
Becoming a Cowboy (8:03; HD) – This looks at the actors', including Armie Hammer and Ruth Wilson, attendance at a cowboy boot camp to give them the necessary authenticity from firing a gun to riding horses.
Riding the Rails of The Lone Ranger (10:39; HD) – Here we learn what it takes to film one of the most epic train chases captured on film. Although a bit short, it's an interesting little BTS featurette chronicles each aspect of shooting the scene as well as building some of the actual railroads, the trains themselves, and train/semi rigs, which goes to explain how this film cost more than $200 million.
Rounding out the features is a single Deleted Scene (3:49; HD) involving LR and Tonto escaping a swarm of locusts and a set of Bloopers (3:51; HD).
Previews – Saving Mr. Banks, Muppets: Most Wanted
VIDEO – 5.0/5
The Lone Ranger rides into town on a Blu-ray presented in its original 2.40 widescreen aspect ratio and a stellar 1080p high-definition transfer. Not too surprising, but the movie looks sharp throughout with great detail levels and the colors appear to be nicely balanced even if the film move more towards warmer elements (orange, brown, gray, etc.).
AUDIO – 5.0/5
The disc comes with an expansive 7.1 DTS-HD Master Audio track which wonderfully showcases the numerous, and outlandish, action sequences and set-pieces. Beyond those, which are quite dynamic and the dialogue sound well balanced. Jerry Bruckheimer produced movies might not always be the best, but man these sounds all sorts of awesomeness.
OVERALL – 3.0/5
Overall, The Lone Ranger might've been a good movie but on a much smaller and simpler scale but instead the filmmakers attempted to recreate some of the conditions which made the Pirates of the Caribbean movies monumental successes down to Johnny Depp playing yet another make-up wearing quirky character. The action scenes aren't that fun and get a bit tedious while the on-screen chemistry between Depp and Hammer just isn't there, though I can't quite blame the actors with a poorly constructed script. Still, the Blu-ray released by Disney might falter in terms of bonus material but the audio/video transfers are at least both top notch.
The Movieman
Published: 12/10/2013
Check out some more screen caps by going to page 2. Please note, these do contain spoilers.