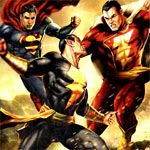 I can't quite recommend this Blu-ray only because even with the other 3 shorts, it clocks in around 60-minutes which is still 10-15 minutes shorter than a feature-length DC Animated movie. I like that they did include commentaries for each short but I would've liked a featurette or two focusing on the animation process.
SUPERMAN/SHAZAM: THE RETURN OF BLACK ADAM
Genre(s): Animation, Action
Warner Bros. | PG13 – 25 min. – $29.99 | November 9, 2010
MOVIE INFO:
Directed by: Joaquim Santos
Writer(s): Michael Jelenic (written by)
Cast: George Newbern, Jerry O'Connell, Arnold Vosloo, James Garner
DISC INFO:
Features: Commentaries, 4 Bonus Cartoons
Number of Discs: 1
Audio: English (DTS-HD MA 5.1)
Video: 1080p/Widescreen 1.78
Subtitles: English SDH, French, Spanish
THE MOVIE – 3.5/5
I wasn't exactly sure how to approach this as the back running time includes the three other shorts, but for the first couple of paragraphs I will focus on Superman/Shazam and then will go into the three other shorts which are already available on other DC Animated releases.
Superman/Shazam: The Return of Black Adam clocks in, including credits, at around 24-minutes so it's basically the length of a standard "Superman" animated series episode but instead of split into 2 or 3 parts which was often done, the larger story was crammed into the limited amount of time.
The story centers on a street kid named Billy Batson (voiced by ZACH CALLISON) who is a good kid with a heart of gold despite his tragic upbringing that included his parents' death and an abusive foster family. He's telling his story about life on the streets to reporter Clark Kent (GEORGE NEWBERN reprising his role from the animated series and movies) when an evil SOB named Adam crashes through a diner window – right in the middle of a pancake breakfast that bastard! – and he has his eyes set to kill Billy. A fight ensues and of course Superman comes to the rescue, though even the Man of Steel has weaknesses and this time it's to Adam's magic powers.
Billy escapes certain death when, in the subway, he somehow whisked away to a secret magical lair where an old man named Shazam (JAMES GARNER) is waiting and tells Billy his destiny to become the Earth's protector and to ultimately stop Adam who was the protector before the power corrupted his mind. After a little lightning show, the lair comes crumbling down as Billy makes his way topside and, after speaking the name "SHAZAM!", lightning comes down and Billy transforms into a grown man called Captain Marvel (JERRY O'CONNELL). Together, Superman and Captain Marvel team up to stop Black Adam.
Given the limited time it had, the story actually wasn't too bad and the animated seemed to be better than what I remember on Superman: Apocalypse, DCA's last feature-length animated film. I'm not familiar at all with Captain Marvel outside of the basics and this short does provide enough background to keep the audience's attentions while still telling an action-packed story but I wonder if true fans of the character might not be just a little disappointed.
Overall, Superman/Shazam: The Return of Black Adam is a good animated short that has some cool action and was entertaining throughout but I admit I don't have any fondness for the character so fans might not fully embrace it.
The Blu-ray case advertises "Extended Versions" of the 3 DC Showcase Animated Shorts and I've done the time math and the differences aren't substantial and I didn't notice a whole lot different, though there are a couple scenes that weren't familiar. The breakdown for each are 1:01 for "The Spectre", 1:10 for "Jonah Hex" and 0:59 for "Green Arrow". Here were my original thoughts on each taken from my previous reviews.
The Spectre (12:52; HD) – I hope these DC Showcase animated shorts become the norm as they offer a way to get to see some of the lesser known DC comic book characters their due. This one about The Spectre features Gary Cole (The Office) and Alyssa Milano ("Charmed") voicing the major roles.
Jonah Hex (13:03; HD) – This is DC Showcase's second animated short, their first was "The Spectre", and I don't know if this "Jonah Hex" short was to correspond with the feature film bomb, but I actually was fairly amused by it. The short features the voices of Thomas Jane (The Punisher) and Linda Hamilton (Terminator).
Green Arrow (12:13; HD) is a short fun little adventure that, like with Jonah Hex that came before, is enjoyable enough as we get to see a character who would not normally get a feature-length movie. Green Arrow is voiced by Neal McDonough (Captain America: The First Avenger) while Malcolm McDowell lends his voice as the villain Merlyn.
SPECIAL FEATURES – 2/5
Unlike previous DC Animated releases, this one did not come with a slip cover or digital copy disc or code.
Commentary on Superman/Shazam – Writer Michael Jelenic lends his thoughts on the short film and where he came up with the story while also commenting on the animation style.
Commentary on The Specre – Writer Steve Niles provides an OK track delving into the style for the short (describing as 1970s TV series mixed with film noir) and how he went about writing the short.
Commentary on Green Arrow – Writer Greg Weissman gives his take on the Green Arrow short and gives some tid-bits on writing the character and how much he loves the Green Arrow character (as well as Black Canary).
Commentary on Jonah Hex – Another writer track, this time with Joe Lansdale providing some insights into his love for comic books and in particular, Jonah Hex. He goes into the influence of classic western movies. I have to say, Lansdale is a true and true Texan and that alone makes this my favorite of the commentaries.
And as with the other DCA Blu-rays and DVDs, this includes 4 Bonus Episodes picked by Bruce Timm from "Batman", "Superman" and "Justice League" focusing on The Spectre, Jonah Hex, Green Arrow and Shazam.
VIDEO – 4/5
All the short films are presented with a 1.78 aspect ratio and in 1080p high-definition. The visuals for the animation are mostly bright, crisp and clear from short to short. Superman/Shazam in particular have a wide range of colors from Captain Marvel's red and yellow suit, Superman's classic costume and Black Adam's dark green outfit not to mention some rich blues during various scenes. The black levels are also good and I didn't notice much in the way of banding. It may not be an amazing transfer, but still certainly good enough to my eyes.
AUDIO – 4.25/5
Again, all the short films are given 5.1 DTS-HD Master Audio tracks but focusing on the main short, at times it is bass heavy but there's still a nice mixture of music with sound effects and dialogue.
OVERALL – 3.5/5
Overall, I can't quite recommend this Blu-ray only because even with the other 3 shorts, it clocks in around 60-minutes which is still 10-15 minutes shorter than a feature-length DC Animated movie. I like that they did include commentaries for each short but I would've liked a featurette or two focusing on the animation process. If you can grab this on the cheap (~$15) then it may be worth picking up.
Brian Oliver, The Movieman
Published: 11/05/2010
Please follow and like us: