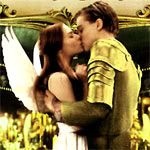 Romeo + Juliet may not have struck the right chord for me, but in this case I can actually understand how someone may become immersed in the film as Luhrmann's visuals are fantastic and the performances all around are actually pretty good especially considering the old Shakespeare dialogue they had to use.

ROMEO + JULIET
Genre(s): Romance/Drama
Fox | PG13 – 120 min. – $34.99 | October 19, 2010
MOVIE INFO:
Directed by: Baz Luhrmann
Writer(s): Craig Pearce & Baz Luhrmann (screenplay)
Cast: Leonardo DiCaprio, Claire Danes, Brian Dennehy, John Leguizamo, Paul Sorvino, Diane Venora
Theatrical Release Date: November 1, 1996
DISC INFO:
Features: Picture-in-Picture, Commentary, Featurettes, Interviews, BD-Live
Number of Discs: 1
Audio: English (DTS-HD MA 5.1), Spanish (Dolby Digital 5.1), French (Dolby Stereo), Portuguese (Dolby Digital 5.1)
Video: 1080p/Widescreen 2.40
Subtitles: English SDH, Portuguese, Spanish
Codec: AVC MPEG4
THE MOVIE – 3/5
I will give this to Baz Luhrmann, the man is a visionary genius but most of his films share a love/hate relationship with viewers and often enough I tend to lean towards the hate, though I still admire and appreciate his visual flair. That's where I stand with Romeo + Juliet, a film that never quite came together for me but is still a unique take on Shakespeare by using the original language and transplanting it into quasi-modern day settings.
Easy and oft known story about two feuding families: the Montagues and the Capulets. As the opening of Shakespeare's play suggests, each family are "both alike in dignity". On the one side is Ted Montague (BRIAN DENNEHY), his wife and his son, Romeo (LEONARDO DICAPRIO), a James Dean like person (now would be considered as a budding Goth or Twilighter) along with his friend Mercutio (HAROLD PERRINEAU) and others in his posse who are also family (includes JAMIE KENNEDY and JESSE BRADFORD). On the Capulet side, that household is run by the iron fist of Fulgencio (PAUL SORVINO) and his wife, Gloria (DIANE VENORA). They have a fine and fair daughter named Juliet (CLAIRE DANES), a girl who doesn't feel like she belongs and is being forced to marry a popular bachelor named Dave Paris (PAUL RUDD).
The two paths of Romeo and Juliet, two star-crossed lovers, will come into play when Romeo and company crash a costume ball put on by the Capulets. It's there where Romeo sees Juliet for the first time and vice versa, neither realizing – until after a fun foray – that they are the children of enemy families. Of course, being teenagers and love on first sight, they want nothing more than to be together so even though they've only known one another ever so briefly, he asks for her hand in marriage and soon enough they are man and wife.
Fights ensue, swords (guns) are drawn and ultimately the star-crossed lovers are separated, though their love is strong. After Juliet's father puts an ultimatum of her marrying Paris or else be banished from the family, with the help of the local priest (PETE POSTLETHWAITE), devises a plan to fake her own death on the day of her wedding by drinking a poison that makes her look dead when she is not. Unfortunately while the priest did send word of this plan and for Romeo to return from exile, the letter fails to reach him and Romeo receives word from his friend that Juliet had died. He comes back to Verona, amidst a police chase, to find her inside the church, looking like she had indeed died. I think you know the ending to this story, right?
I love the story of "Romeo and Juliet" and I do admire the job Baz Luhrmann and company did to transplant the story into a hip-hop setting, but I never felt fully engaged with the movie as I should have been or even remember being when I last saw it a few years ago. There are several great aspects to the movie such as some great performances from DiCaprio and Danes (who share great chemistry despite really not having THAT much screen-time together) and even Leguizamo in a limited role but one that is probably the most memorable, so much I'm kind of surprised he didn't at least receive a Supporting Actor Oscar nod for it.
Overall, Romeo + Juliet may not have struck the right chord for me, but in this case I can actually understand how someone may become immersed in the film as Luhrmann's visuals are fantastic and the performances all around are actually pretty good especially considering the old Shakespeare dialogue they had to use.
SPECIAL FEATURES – 3.5/5
BLU-RAY EXCLUSIVES – 2.25/5
This release, now the fourth including DVD I believe, comes with a glossy slip cover. Almost everything from the previous DVD releases have been ported except a couple items including a solo commentary by Baz Luhrmann and two more solo tracks with composers Craig Armstrong and Marius DeVrie. Why they were left off, I have no clue.
Feature Commentary – The track includes Co-Writer/Director Baz Luhrmann, Producer Catherine Martin, Cinematographer Donald M. McAlpine and Co-Writer Craig Pearce. The track is fairly entertaining as the four participants' share stories while also provide behind-the-scenes info about the production.
Romeo + Juliet: The Music Documentary (49:13; HD) – This is a lengthy documentary chronicling the making of Romeo + Juliet from its inception, the fairly low budget of only $10 million and using contemporary music intertwined with the Shakespearian language. Luhrmann explains how and why he used the music he does and how it ties into what Shakespeare did.
"Everybody's Free" – The Journey of the Song (1:46) – Just a short featurette that expands on the documentary that focuses on the song "Everybody's Free".
The London Music Mix (4:20; HD) looks at mixing the music from the film but instead of using it in a film studio they did it in a small room and the challenges that were presented in doing the uniqueness of the music.
Temp Music – The Journey of the Song (2:06) is another short featurette on, well, the temp music and coming up with musical cues such as some "Angel" song used during the fireworks scene or the "Lovefool" hit song by The Cardigans.
Director's Gallery (24:00; SD) and Director of Photography Gallery (6:57; SD) are featurettes examining various aspects including the impact of William Shakespeare as well as comments by Luhrmann and others on why they went this path for the movie. Once again, most if not all of these are accessible through the PiP feature.
Interview Gallery (15:32; SD features the main players in the saga including: Leonardo DiCaprio, Claire Danes, John Leguizamo, Production Designer Catherine Martin, Co-Writer Craig Pearce, Editor Jill Bilcock, Choreographer John O'Connell and Costume Designer Kym Barrett.
We also get the International Theatrical Trailer (1:31; SD).
BLU-RAY EXCLUSIVES
Shaking Up Shakespeare – This is a new Picture-in-Picture mode where you get to listen to the commentary track while also getting a separate window with behind-the-scenes footage, production photos and sketches as well as the option to view featurettes by pressing the "Select" or "Enter" buttons on your remote.
From the Bazmark Vault (13:57; SD) – These are a series of behind-the-scenes footage/production stills ('First Kiss', 'Beach Scene', 'Uncut Rehearsal', 'Outside the Church') that are also viewable via the PiP mode (explained later) or here individually.
Live Look-Up – With this feature, enabled via BD-Live, you can check out the IMDb filmographies of the cast and crew while watching the movie. The actors are presented either as they come on screen or you can see the entire cast and look up their stats that way. I've said this before but I never found use for this as I can just as easily, and quickly, look it up for myself.
VIDEO – 4.5/5
Romeo + Juliet is presented in its original 2.40 aspect ratio and in 1080p high-definition. I know this movie is now 14 years old and but at times I felt the film looked a tad soft, however, given Baz Luhrmann's colorful eye, the visuals certainly pop off the screen. I was especially impressed on a couple scenes in particular. The first was the first meeting between Romeo and Juliet through the fish tank. The blues from the water and reflection of each of their faces looks fantastic; the other is towards the end as Romeo enters the church where he finds Juliet.
AUDIO – 4.25/5
Meanwhile the 5.1 DTS-HD Master Audio track has some oomph to it with good levels for dialogue and ambient noises or off-screen chatter and while a few sound effects didn't have much resonance, others like chopper blades or fireworks provide a nice punch to the aural senses.
OVERALL – 3.25/5
Romeo + Juliet wasn't my cup of tea but I understand where the love for the film comes from. The Blu-ray itself strikes good scores on both the audio and video aspects while the features also are quite good despite missing a few commentaries left off from a previous DVD release.
Brian Oliver, The Movieman
Published: 10/23/2010
Please follow and like us: