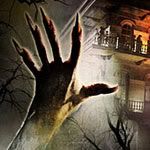 I appreciate the passion the filmmakers had making Night of the Demons with the dark humor as well as paying respects to the original, but unfortunately it did not translate well in the final product as the story never worked for me and the acting, even from this group, was spotty.
Night of the Demons


Directed by: Adam Gierasch
Writer(s): Joe Augustyn (original screenplay); Jace Anderson & Adam Gierasch (screenplay)
Cast: Shannon Elizabeth, Monica Keena, Diora Baird, Edward Furlong
Features: Commentary, Featurette, Theatrical Trailer
Audio: English (DTS-HD MA 5.1)
Video: 1080p/Widescreen (1.78)
Codec: MPEG-4 AVC
Retail Price: $24.98
Release Date: October 19th, 2010
Studio: E1 Entertainment

THE MOVIE – 2/5

Although I don't consider myself a horror aficionado by any stretch, I was at least a little curious to see Night of the Demons, a remake of a 1988 film from the same name that has a cult following. Having not seen the original I can only speak to the quality of this new version, or lack thereof…
The 2009 remake is about a group of college students attending a rockin' Halloween party hosted by one Angela Feld (SHANNON ELIZABETH), a chick in desperate need of cash flow and this party with its $10 door fee is the answer to her problems. Attending the ghoulish-meets-sexy shin-dig are friends Maddie (MONICA KEENA), Lily (DIORA BAIRD), Suzanne (BOBBI SUE LUTHER), Jason (JOHN F. BEACH) and Dex (MICHAEL COPON), the latter two are involved with Lily and Suzanne respectively. Also at the party is Colin (EDWARD FURLONG), a drug dealer in deep trouble with his supplier and needs to make some major cash or else.
Things take a turn when the po-po (I'm hip) shuts it down since Angela doesn't have a permit to hold a party and the group I just outlined get stuck on the grounds when the only gate leading off the property gets locked on them. Now, perhaps you're like me and ask: Well, why not just scale the walls to get to the other side? I haven't a clue as early on they establish the house and the wall isn't that tall so even if they couldn't find something to climb on, a human ladder would've sufficed. And no, the filmmakers do not explain why it wasn't even attempted.
So as you can imagine such thoughts lingered throughout the entire film before things get too out of hand when the group discover skeletons in the basement and one of them bites Angela as she tries to take a gold tooth and the skeleton, and rightfully so that thieving beyotch, bits her fingers and thus the process begins and not too much later transforms into a demon; now all it takes is a kiss or spit or whatever to turn others into demons as well.
We discover that there is a method to their demonic madness as when seven souls are taken the demons can be unleashed onto the world, but only on Halloween night up until, conveniently, the sunrise.
So obviously I should throw logic out the window since demons mixed with TnA is involved so I'll move on to the crux of why I didn't like this film. First, I didn't find it all that scary, funny or well scripted and even the acting is a tad subpar which is a slight surprise given this cast, while filled with B and C-list actors, have turned in fine performances in the past.
On that point, the one that comes to mind first is Edward Furlong, a young man (shockingly now in his 30s) best known for Terminator 2 but has turned in some good performances most notable American History X. Of course, he also has his turkeys including The Crow: Wicked Prayer yet here he seemed out of place and perhaps in an entirely different movie. It's also a case perhaps of miscasting since his character is the ex-boyfriend to Monica Keena's Maddie and even her best friend mentions that she did not know what Maddie saw in him… and neither do I. He isn't particularly charming and seems to be a killjoy (not to mention self-centered whiner) at any gathering.
The rest of the cast are fine though they seem to just go through the motions meaning there aren't any stand-outs, just stand-ins for the ghoulish material. Keena probably makes it out the best playing what is essentially the main character and one of three characters to have to run through the house to escape the demons, so I will say it was a thankless role so props to her.
Speaking of the material, the screenplay was written by husband and wife team Adam Gierasch (who also directed) and Jace Anderson and certainly through all the predictable moments has at least one memorable and disgusting scene known on the Net as the "lipstick scene". I could describe it here but why ruin the fun? Needless to say it's the type of scene that gets certain segments of the online community buzzing, unfortunately the rest of the film doesn't offer much else up even in terms of shock value not to mention story.
SPECIAL FEATURES – 2/5

Feature Commentary – Co-Writer/Director Adam Gierasch is joined for a lively commentary with co-writer (and wife) Jace Anderson and cast members Monica Keena, Bobbi Sue Luther and John F. Beach. I personally like these group commentaries however often they can go off track so purists who want insights into filmmaking might be a little disappointed or even annoyed by this track.
"Behind the Bloodbath" Featurette (18:21; HD) – This is a basic "making-of" introducing us to the cast and crew and providing a look behind-the-scenes at how the film was made mixed in with footage from the film with the participants explaining the plot. The featurette also goes some into the make-up and comparisons with the original 1980s version.
Intro from Comic Con (1:07; HD) – Director Gierasch and Co-writer Jace Anderson provide reasons (to a video camera at what I assume is the Anchor Bay booth) why this movie will kick ass. *Yawn*
Last is the theatrical trailer (1:23; HD).
VIDEO – 3.5/5

Night of the Demons is presented with a 1.78 aspect ratio and in 1080p high definition (MPEG-4 AVC codec). The picture isn't all too pretty and is in fact a little drab and lacks any visual pop even for a darker film like this. The detail levels for the close-ups isn't too bad but any background elements tend to be weak while any colors that are there seem to be subdue, though that is more a director's decision.
AUDIO – 3.5/5

The 5.1 DTS-HD Master Audio track meanwhile doesn't fare too much better although the music provides the most depth for the film while dialogue does sound crisp and clear throughout. Where the track fails is that overall it's just doesn't have the depth with not a whole lot of movement from the rear channels, though there is some.
OVERALL – 2/5

Overall, I appreciate the passion the filmmakers had making Night of the Demons with the dark humor as well as paying respects to the original, but unfortunately it did not translate well in the final product as the story never worked for me and the acting, even from this group, was spotty. The Blu-ray is alright in terms of the video and audio but nothing fantastic while the features save for the commentary are not special.
– Brian Oliver, The Movieman
Published: 10/19/10
Please follow and like us: