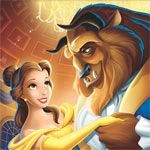 While it's not one of my favorite Disney animated films as a kid, it still holds up very well almost twenty years later. The Blu-ray just screams 'awesome', and any fan of films will want to buy it. Now where is The Lion King?
 


BEAUTY AND THE BEAST: DIAMOND EDITION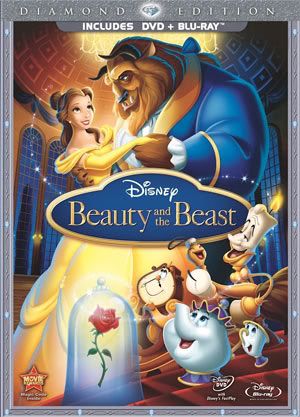 Genre(s): Animation/Drama/Comedy
Disney | G – 91 min. – $39.99 | October 5, 2010
MOVIE INFO:
Directed by: Gary Trousdale, Kirk Wise
Writer(s): Linda Woolvertib (animation screenplay)
Cast: Paige O'Hara, Robby Benson, Jerry Orbach, Angela Lansbury
Theatrical Release Date: November 22, 1991
DISC INFO:
Features: 3 Versions of the Film, Commentary, Sing-Along Mode, Featurettes, Deleted Scenes
Number of Discs: 3
Audio: English (DTS-HD MA 7.1)
Video: Widescreen 1.78
Subtitles: English SDH, French, Spanish
Codec: MPEG4
THE MOVIE – 4/5
Some say Disney rebounded (after a period of pretty poor animated films) with The Little Mermaid, but I think it did with Beauty and the Beast. Right after Beast we had a cavalcade of great Disney Animated films like Aladdin, The Lion King and one of my favorites (though often forgotten), Mulan.
Disney's Beauty and the Beast is based on a French Fairy tale which finds the character of Belle in France caring after her old and often crazy father. The film opens with a spectacular music number (parodied by South Park: Bigger, Longer and Uncut) where we, the viewer, get to explore her small little village. Her father leaves town where he stumbles upon a big castle that happens to be the home of 'The Beast' who captures him instantly. You see, The Beast was actually a man who was turned into a Beast by a witch who he turned away when she needed help. Because of that, the entire Castle was cursed and everyone inside was turned into a household object, while the man was turned into The Beast. Living a sheltered life, he assumed that Belle's Father was there to harm him and locks him up. Eventually Belle comes looking for him and trades spots with her Father and becomes The Beasts prisoner.
As one might expect, the two eventually fall for each other and The Beasts hopes that Belle will fall in love with him so that she can break the spell an turn him back into a human. A pretty ho-hum story that really comes to life with the numerous musical numbers. It's been a good fifteen years since I last saw this film, and instantly remember nearly every musical line and was cheerfully singing along (as was my girlfriend).
I still think the film might be a bit too scary for a kids film (there's a death, a stabbing, a wolf attack), but it holds up well almost twenty years later.
SPECIAL FEATURES – 4/5
This release includes an attractive slip cover.
The Blu-ray has three different versions of the film:
Original Theatrical Release (1 Hour and 25 Minutes)
Special Edition (1 Hour and 32 Minutes) – Includes an additional music number, "Human Again"
Storyboard Version (1 Hour and 25 Minutes) – A PiP track that runs concurrent with the film while Producer Don Hahn discusses the changes from the storyboard to actual film.
Audio Commentary (Special Edition only) with Producer Don Hahn and Co Directors Kirk Wise and Gary Trousdale
Sing-Along Mode (HD) – Exactly what you might think it would be. Great for kids.
The Story Behind the Story (25 Minutes) – Find out how several Disney films were adapted from short films/books/fairy tales to fully fledged films.
Presentation Reel (35 Minutes) – This gives us a pretty interesting view on how the film was originally conceived early on with different songs, footage and storyboards.
Rounding out the discs is a Music Video (3 Minutes) by Celine Dion, a fluff piece on the stage adaption of the film called Broadway Beginnings (13 Minutes; HD), And two Java games for the kiddies. Oh, and a BD-Live Portal for…well, nothing.
Also included is a single DVD that includes the Film and a few Special Features.
BLU-RAY EXLUSIVES — 3/5
Beyond Beauty (2 Hours+; HD) – Oh gees. This is an very cool Java feature that lets the viewer click around a digital environment that includes numerous interviews, storyboards and just about everything you could ever want to know about the film. At times, it does get a bit overwhelming, and I'm pretty sure I didn't even see everything there was.
Composing a Classic (20 Minutes; HD) – Composer Alan Menken and Don Hahn takes us behind the scenes on how music makes the film.
Deleted Scenes (27 Minutes; HD) – Given the long run time, you might think there is a lot of content, but it's only two deleted scenes (storyboards).  One being an Alternate opening and the other a short scene where Belle visits the Beasts library and meets some new characters. Both feature a short introduction.
VIDEO – 5/5
Beauty and the Beast is presented in 1.78:1 (MPEG4) on a 50GB Disc. One word: Amazing. I'm sure you've read that a lot when Disney releases an animated film on Blu-ray, but this one truly looks it. Being that this was hand painted, you can actually see the brushstrokes in the image (unlike how most kid films are produced now). Even though Toy Story looks great, I'd have to say this was one of the most visually appealing films I've ever seen on the format and certainly one of the best restorations of an animated film. I'd give it 6 out of 5 if I could. Brilliant.
AUDIO – 5/5
Disney has included an English 7.1 DTS MA Track for this release. Another echo – amazing. Music blares through all 5 (I don't have a 7.1 setup) speakers and slight noises crackle when the film goes into dialog mode. I don't know how Disney continues to pump out one amazing release after another, but they do.
OVERALL – 4.5/5
While it's not one of my favorite Disney animated films as a kid, it still holds up very well almost twenty years later. The Blu-ray just screams 'awesome', and any fan of films will want to buy it. Now where is The Lion King?
Brad Lowenberg
Published: 10/21/2010
Please follow and like us: